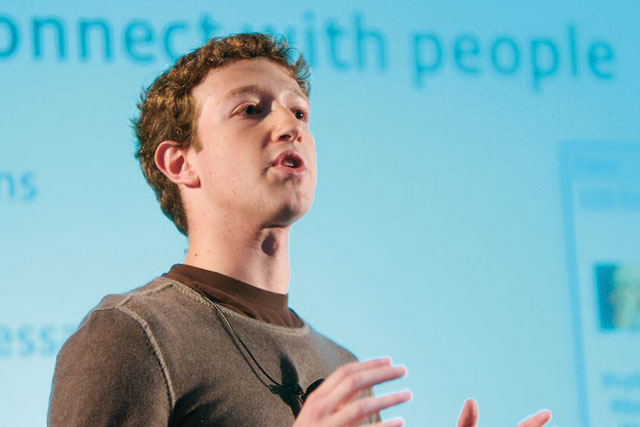 General Motors' timing, it has to be said, is immaculate. A mere breath before Mark Zuckerberg remotely rang the Nasdaq opening bell last Friday to herald what has been described as the biggest IPO ever, the motoring manufacturer announced it had decided that advertising on Facebook didn't really work - and it was pulling its $10 million budget.
Ouch. Facebook's launch valuation, an utterly surreal $104 billion, was based in part on the notion that revenues (not least advertising revenues) will begin to grow strongly - and perhaps exponentially. This latest GM development, based as it was on seemingly damning research, was surely a terrible indictment of the company's real-world (as opposed to Wall Street fantasy) prospects. And judging by its second day of trading on Monday, which saw its launch share price of $38 fall to $33.73, it seems that the Facebook dream bubble may have started to burst just in time for it to go public.
Believe GM and you surely believe that this is a black-and-white issue - the IPO hype has been based on a false premise and the company has done us all a favour by offering a corrective to the sorts of silly speculation that may drag stock markets into disrepute.
Last week, it was instructive, however, to discover how many people just don't believe GM. Or have a conspiracy theory take on what it's up to. Many observers were arguing that this was just a bit of opportunistic brinkmanship.
GM, so the theory goes, still believes that Facebook will play a large part in its future marketing plans - and, indeed, the car-maker has announced that it remains "committed to an aggressive Facebook content strategy through all of our products and brands" and that it "continues to be a very effective tool for engaging with our customers".
But there are those who believe GM is merely the first major advertiser (it has the US market's third-largest media budget) to square up and that more are likely to follow suit.
A confrontational atmosphere can apparently be traced back to Facebook's marketing conference in March. Major advertisers pitched up under the impression that they were the company's "partners", that they would be praised for their role in its success story so far - and would reap some sort of reward. They were dismayed to discover that the past would count for nothing and were shocked to be told, effectively, that they would have to stand in line, behave themselves and pay exactly what Facebook wanted them to pay. Or else.
There are those who further argue that many advertisers have been throwing money at Facebook (sometimes in a state of panic bordering on hysteria) solely because everybody else was. Now there is, apparently, widespread talk that the company might benefit from a few reminders that, actually, it's just a media owner like any other.
James Harris, the EMEA/G14 managing director of digital at IPG Mediabrands, concedes that a reassessment may have been long overdue. He says: "Facebook has had a belief that it had an absolute right to be on every schedule - and some advertisers haven't asked themselves the right sorts of questions about why and how they should be using social media. The GM thing is good in that it may make people feel that it might be OK not to advertise on Facebook. No-one likes being held to ransom."
1Facebook has 900 million users - 70 per cent of the world's internet users. It takes $3 billion in revenue (mostly advertising revenue) - or $4.34 per user. That's a relatively tiny amount - and it can confidently expect to boost that figure (though it would have to increase it more than tenfold to justify its launch valuation).
2GM's decision coincided with the publication last week of research from Associated Press in partnership with CNBC, indicating that 57 per cent of Facebook's users never engage with commercial content on the site, with another 26 per cent saying they rarely do. Equally worrying, the survey revealed that 54 per cent of respondents said they wouldn't feel safe using the platform for financial transactions, such as the purchase of goods or services.
3 This dovetailed with straw polls (for instance, on seekingalpha.com) indicating that a majority of Wall Street traders do not believe Facebook is a sound long-term investment at current prices.
WHAT IT MEANS FOR ...
Online and mobile display
- In some respects, the GM gambit isn't just about Facebook - there are even bigger questions in play here. Robin Grant, the global managing director at We Are Social, is well-placed to assess the pros and cons - his agency manages the content-creation components of social media marketing strategies but also oversees the advertising side of things. He states: "Paid media is an important component of social media - and it's fascinating that the jury is still out about the effectiveness of any type of online display advertising. On the other hand, it took television 40 years to prove its effectiveness."
- True, but you could also argue it is remiss, after more than a decade of the internet as a mass-market media-delivery channel, that no-one in the industry (either on the agency or the media owner side) has even begun to make a truly compelling case for digital display advertising.
The Facebook business model
- It's fascinating that the Facebook business model (or the version that filters through to media agencies, which is probably as good as we'll get) is rather vague about the extent to which it is banking on advertising (in the old "paid-for" media definition of the term) revenue growth.
- If ad growth doesn't meet expectations, Facebook will probably start acting like a marketing landlord, charging rent to the companies using it to create prime digital shop-front real estate.
Your mortgage and your pension fund
- There's one golden rule here: when investing in Facebook, always make sure you're using someone else's money.