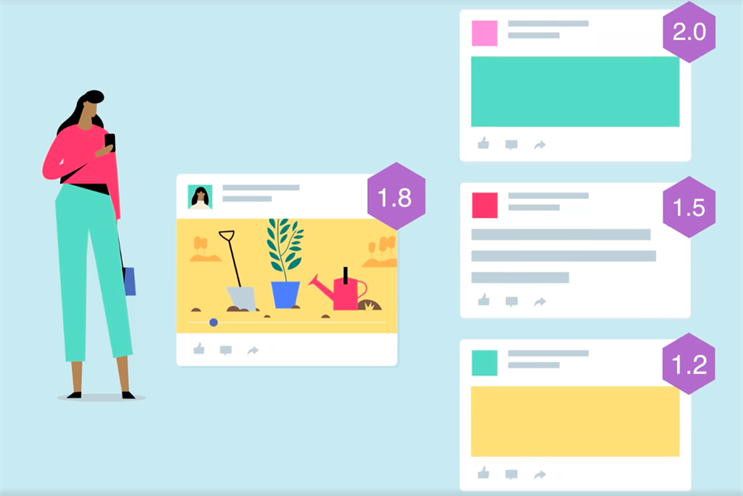 In a post last night, Facebook announced that it would be introducing changes to its news feed algorithm in the coming year to ensure that posts by friends and family on Facebook appear higher in the news feed.
"Recently we've gotten feedback from our community that public content -- posts from businesses, brands and media -- is crowding out the personal moments that lead us to connect more with each other," Facebook chairman and chief executive officer Mark Zuckerberg, wrote.
The changes Facebook is rolling out to combat this will mean that users will start to see less public content such as posts from businesses, brands and media. The platform claims that the content users see will be the material that "encourages meaningful interactions between people".
This move may be detrimental to brands, businesses and publishers, and will even limit Facebook's short-term growth but is ultimately beneficial for the social network in the long-term, Brian Wieser, senior research analyst at Pivotal Group, commented.
"The company was understandably focused on driving user growth over the years, although former Facebook executives have recently described negative impacts on consumers from those efforts. To the extent that those criticisms are valid, action is warranted," Wieser said, adding that time spent by users on Facebook had started to decline prior to this decision.
Impact on brands
As Facebook takes these steps, and invests in premium content, to improve its user-experience, so too must brands on Facebook look to create better content, Greg Allum, head of social at Jellyfish, advised.
"We [marketers] need to be clever with our content and understand what resonates with the consumer and why. More importantly, we all need to become better media planners," Allum said.
Facebook will be looking to offset the hit it will take to near-term revenue from advertisers by stoking Instagram's growth, Wieser noted. The platform will also be able to use this new approach to focus on higher-paying advertisers, and using more refined targeting methods to satisfy advertiser goals with less inventory.
Publishers may be most affected
In the end though, media owners are likely to be the most affected by this update, commented Allum.
While Facebook's announcement may, on the surface, appear to tackle the issue of the spread of fake news and click-bait, that will ultimately depend on a user's friendship circles. This may, in fact, increase the filter bubble effect as users only see posts shared predominantly by the people they interact with the most.
Publishers, who are already challenged on the platform, may not agree to continue investing their media budgets in Facebook with this change.
However, Allum believes that while publishers will test and learn on other channels, they will ultimately return to Facebook.
"The lure of a captive audience will be too much for them, but they will shift their strategy and concentrate on creating less but bigger and better pieces of content, which in turn will improve the user experience for consumers. Although brands could see an increase in the cost to advertise as the channel becomes more competitive," he said.
Financial Times chief executive, John Ridding, criticised Facebook's update as not particularly helpful to quality publishers.
"As a long-standing publisher of quality journalism, the FT welcomes moves to recognise and support trusted and reliable news and analysis. But a sustainable solution to the challenges of the new information ecosystem requires further measures - in particular, a viable subscription model on platforms that enables publishers to build a direct relationship with readers and to manage the terms of access to their content," he said.
Ridding added: "Without that - as the large majority of all new online advertising spend continues to go to the search and social media platforms - quality content will no longer be a choice or an option. And that would be the worst outcome for all."