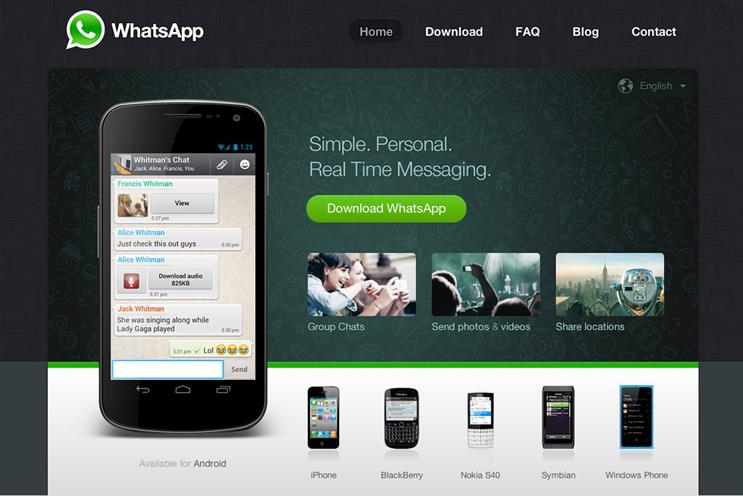 Facebook commanded all the headlines again last week with news of its whopping $19 billion purchase of WhatsApp, a messaging app with 450 million monthly users.
The sum is 19 times the amount Facebook paid for Instagram in 2012, and that seemed like an awful lot at the time. Fast-forward 22 months and it looks as though Facebook effectively stole Instagram from its founders.
WhatsApp will remain a distinct service and be run as a separate entity within Facebook. Mark Zuckerberg, the founder and chief executive of Facebook, says the deal will provide WhatsApp with the support it needs to "focus purely on growth". Both Zuckerberg and WhatsApp's co-founder and chief executive, Jan Koum, say ads are not "the right way of monetising messaging services". The men have known each other for years but turned the deal around, from concept to announcement, in ten days.
Nate Elliott, the vice-president and principal analyst at the research company Forrester, says the WhatsApp acquisition is "another step towards keeping people engaged [with Facebook], no matter where they are". Elliott rejects the belief of some observers that the deal is an attempt by Facebook to cling on to wavering younger users. Facebook is, he says, "tireless in its efforts to keep users coming back" and it is working, as people "keep visiting the site more and more frequently".
So if Facebook is not going to serve ads to WhatsApp users, what is the business model? As it stands, Whats­App charges $0.99 a year after the first 12 months. This will be a new income source for Facebook – however, Whats­App only brought in $20 million in 2013. The data from its users should be more valuable, though. Ben Phillips, the global head of mobile at MediaCom, believes WhatsApp will provide a "very rich source of data" to support the ad opportunities Facebook offers on its other products.
Whatever the potential value of data, the $19 billion valuation must have comforted Rakuten, the Japanese internet retailer, which agreed to pay a comparatively paltry $900 million for a similar service, Viber, in the days before the WhatsApp deal. Moreover, Martin Garner, a senior vice-president at the analyst CCS Insight, questions whether Facebook could have been more innovative with the money. "Facebook has become quite corporate and less maverick since its IPO," Garner says.
As its rival Google experiments with driverless cars and buys companies such as the intelligent home appliance specialist Nest and the British neuroscience business DeepMind, Facebook's purchase of a messaging app appears fairly conservative. But it is not that simple. Google itself tried to buy WhatsApp as the Facebook deal was being closed. Moreover, Facebook is making its own left-field investments and hired the New York University professor Yann LeCun to run a lab devoted to researching artificial intelligence in December.
While he would have liked to see Facebook expand into wider services, including, say, its own smart appliance project, Garner says the purchase price is "understandable given the market conditions". The $42 Facebook is paying for each WhatsApp user is less than a third of the value its market capitalisation places on Facebook users. Moreover, Garner predicts there will be many more giant tech deals over the next few years as the industry matures.
Will Facebook's WhatsApp be another MySpace or, rather, the next YouTube? Only time will tell. However, after initially falling, Facebook's share price has recovered since the deal was announced, demonstrating that investors are sticking with the social media behemoth for now.