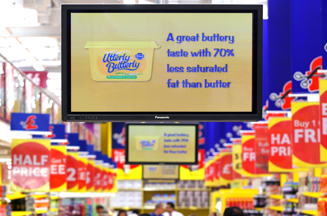 Tesco's decision to create an in-store TV network, Tesco TV, in 2004 was taken with characteristic brio. It was also quickly copied, and ditched, by rival supermarkets. Five years on, and Tesco has finally pulled the plug on the service, subsequently renamed Tesco Screens, leaving its stated ambition of attracting 5% of TV ad revenue seem rather hubristic.
Tesco, which claims it is dropping the service in favour of something more 'modern', launched Tesco TV in 100 stores and invested in 5000 widescreen TVs that were suspended from the ceilings of the aisles - or retail zones - showing a mixture of relevant editorial and advertising. The network's selling point was that it had a reach of 27% of all supermarket shoppers, equating to 200m shopping trips a year.
Asda and Sainsbury's took a rather more low-key approach. Asda Live launched soon after Tesco TV, but only across stores in Wembley and York, while Sainsbury's Fresh TV trialled in three stores - London, Ipswich and Edinburgh in early 2005. However, these forays into using the channel were to be short-lived: Asda suspended its small network in 2006 while Sainsbury's pulled the plug on Fresh TV less than a year after launch.
In theory, the highly targeted nature of Tesco Screens was ideal for reaching consumers at the crucial point-of-sale. This begs the question as to why it apparently failed to succeed.
'If you put a screen where people don't look at it, showing content that requires people to be still it doesn't work,' says Ivan Clark, director of digital and creative solutions at outdoor media agency Kinetic.
Another downfall was the assumption that advertisers would run the same ads in-store as on TV. This seemed to be predicated on a misconception that consumers had the same level of engagement when shopping as they did in front of the TV at home.
Sound was also a major problem - early anecdotal evidence suggested that some shoppers and Tesco staff found the ads an irritation, perhaps not helped by the frequency with which they were shown. Some store managers even turned the volume down or the screens off, thereby losing the message. One insider even suggests the ads would not have registered with shoppers anyway, saying: 'Trying to project sound in a busy, noisy environment is not going to work; shoppers are not going to hear it.'
Given that Tesco Screens was trying to attract brands' TV budgets despite in effect being an outdoor retail medium, there was also confusion over which pot its sales agent, JCDecaux, should target. The sales contract was subsequently awarded to dunnhumby Retail Media, which is majority-owned by Tesco, a tacit admission, perhaps, that it was not going to attract the blue-chip advertisers that Tesco initially thought it might.
Jim McDonald, head of broadcast at MPG, says that despite these teething problems, which, he adds, could probably have been resolved over time, the real issue was that consumers weren't interested in the first place. 'If consumers had really liked the service and it had driven sales, agencies would have found a way to make it work.'
It could be argued, then, that the in-store TV network failed because it was rolled out too hastily, and without proper insight into whether consumers could respond to ads while trying to navigate crowded shopping aisles.
It could equally be argued that Tesco was brave to take the decision to lead the crowd and make a substantial investment in a new channel. However, further research into consumer behaviour and buying structures could have saved it from an investment that, it seems, was misplaced from the beginning.