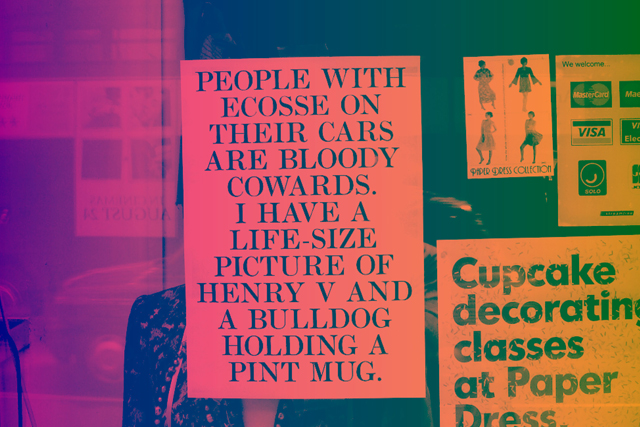 He was described as the worst graduate trainee that Ogilvy & Mather had ever hired, but it didn't work out too bad in the end for Rory Sutherland or the agency. Now the vice-chairman of Ogilvy UK, Sutherland has become one of the best-known figures in advertising, with The Spectator (for which he writes a regular column), the IPA (where he spent two years as its president) and, of course, Campaign all benefiting from his wit and wisdom over the years.
And now Sutherland has committed his thoughts to a book, published this week, which uses a question-and-answer format alongside some of his best columns. In an extract from the book, Sutherland recalls his time starting out at Ogilvy.
You used to work on the accounts side. Am I right?
I was a terrible accounts person ...
I'm doing myself a slight disservice - I was quite good at certain aspects of account handling. On the relationship side, I was OK, and on the strategic side, but the administrative side was a complete fucking nightmare - I'm absolutely terrible at that stuff. I had a totally different heuristic to everybody else. I was once booked on a time-management course and got the date wrong.
I was seen as a failure. That was probably the time that I realised I wasn't really cut out for it. They'd say: "Rory, where are you? Aren't you supposed to be at your time-management course?" Oh dear.
How do you think your 25-year-old self, having just been fired, would have responded if you had been told that, in 20 years' time, you would be the vice-chairman of Ogilvy UK?
Incredulity, certainly. Incredulity now, never mind 25 years ago, to be honest. What happens is you're promoted and people start treating you slightly differently; but, inside, you're still the same arsehole you always were. It is odd. I mean, Ogilvy fortunately isn't a very deferential culture is it, really?
No.
Particularly Ogilvy in the UK. The UK isn't very deferential. In the US, there's a level of veneration of senior people that I find slightly unnerving, to be honest. You know, they really do venerate people that are successful in business, all that sort of Forbes magazine porn and stuff like that.
You know, wonderful CEO centrefolds with the guy standing in front of a helicopter. The UK isn't really like that.
The advice I would give to anybody is to be good at two things, not one. Know about two things rather than one and, if possible, make the two things overlap a bit.
The behavioural economics things have been an absolute godsend. I had two really lucky breaks. One of them was that my brother was an academic so I heard about the worldwide web about a year before it became mainstream. It seems hard to believe now but there was genuinely - both in advertising and in direct marketing - a period of about one or two years when if you went to conferences ...
I remember the people at conferences, half of them are multi-millionaires now because they were early day internet entrepreneurs in the UK. People such as Ajaz Ahmed, the founder of the digital agency, the name of which I've briefly forgotten because I'm bonkers (AKQA). There were groups of us in basement hotel rooms thinking that this was going to be really big, and we went back to the agency and there might have been ten people who shared our belief.
The majority of people thought that this was just a flash in the pan - it's CB radio, it's hobbyist, it's crap.
This is at Ogilvy, which had two great advantages at the time in the Microsoft account and the Compaq account, which was soon to be replaced by the IBM account.
As an agency, we always had a very good IT department and we were always slightly ahead of the curve with IT investment and development because our clients simply demanded that. That was quite good in the end - it meant we got all sorted out on the internet pretty fast.
Also, we had this David Ogilvy culture. Ogilvy had always been a huge sort of high priest for things such as direct mail, direct marketing, promotion - he liked alternative forms of advertising.
So when the internet came along, if you were wearing the "What Would David Do?" jewellery, you had to take this seriously, because you knew that it wasn't culturally consistent with Ogilvy just to ignore it. You had to keep on challenging yourself and fighting your assumptions - that really, really helped.
Rory Sutherland: The Wiki Man is designed and published by It's Nice That and Ogilvy Group UK.