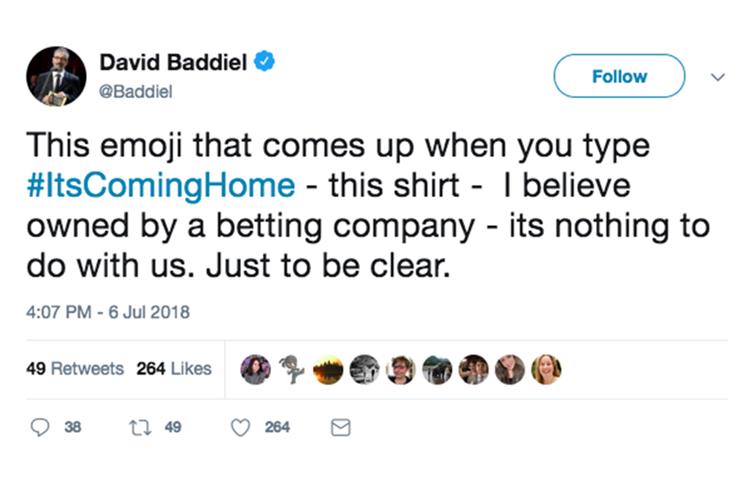 At the start of the 2018, only the very brave or very stupid would have suggested that the beautiful game of association football was on its way back to its land of origin (ie #ItsComingHome).
But after England's impressive 6-1 win over Panama in the group stage, millions of fans became bold enough to start talking with semi-ironic confidence about the prospects of the national team once again, and the Baddiel and Skinner-inspired hashtag started to be used more and more.
That's when users started to notice the William Hill-branded football strip emoji that appeared next to the hashtag whenever it was used – and not everyone was thrilled to be promoting a gambling brand without their prior consent.
After Campaign publicised the backlash, the sponsorship of the hashtag ended, although neither Twitter nor William Hill would comment on which of the two made the decision
It also appeared to be the case that under-18s could have been exposed to the emoji, with it having appeared in tweets from the likes of the Beano. Twitter did not comment when questioned on the steps it had taken to prevent children from seeing the ad, but a spokesman suggested this was more a consideration for William Hill.
The Advertising Standards Authority, meanwhile, said it had not received any complaints about the campaign, but it would "ensure that we talk to the parties involved about the targeting of these types of ads".
But questions about how the sponsorship was managed aside, was there really anything wrong with Twitter's decision to commercialise one of the most visible elements of its content?
Kristof Fahy
Chief customer officer, Hostelworld
Good work by the William Hill team. If others are grumpy it probably means they didn't think about it and are now kicking themselves, their team or their agencies or all three.
Secondly, now we are all England fans because they look like they might over-achieve we suddenly care. Really? Thirdly, the issue – if there is one here – is with Twitter. They decided to sell the sponsorship and a brand decided to buy it. Don't blame the brand.
Kristof Fahy was formerly chief customer officer at Ladbrokes Coral Group and chief marketing officer at William Hill
Harvey Cossell
Head of strategy, We Are Social
To sell off a hashtag so ingrained in popular culture can be very dangerous, particularly if that hashtag is popular with all ages.
Outside the obvious issue of exposing children to a gambling promotion, the use of a "hashflag" in this instance coerces everyone into unwittingly promoting the brand, with no opportunity to opt out.
It is important when we use hashtags as part of brand communication to always remember that they were originally used by people to tap into communities around shared passions, not to be reappropriated for commercial gain.
Lisa Parfitt
Managing director, Synergy
You can't help but think Twitter and William Hill have been a touch unlucky. The likelihood of the phrase to take off like it has would have been difficult to call, especially when you have lived through so many years of hurt. Its popularity has been supercharged by the remarkable possibility that "it" might actually come home. As a result, selling #ItsComingHome has become akin to selling the word "hello".
Every England fan has become an unwitting trumpeter of a betting brand. Would there have been a backlash if William Hill was a bakery rather than bookmaker? I suspect not.
So the question Twitter should ask itself is not should we sell, but who should we sell to?
Niall Coen
Chief executive, Snack Media
Of course it is fair game for Twitter to commercialise their platform. It was also a great piece of foresight for William Hill to predict and execute against the #itscominghome trend. We were doing this for Ford at the Champions League final years ago. The execution and potential for under 18s to unwittingly become part of the campaign was less than perfect – that's the issue.
Social platforms are such a huge part of daily behaviour and consumption that brands must continue to embrace them, think differently and create experiences that enhance a fan's experience. Does a emoji do this? Arguably not. William Hill and Twitter surfacing the best and funniest user-generated content? Maybe.
Sara Tate
Chief executive officer,
TBWA
\London
No. Although it might make financial sense to sell cultural hashtags, for the Twitter brand, selling off #ItsComingHome is an own goal. Brands can build, celebrate and borrow from culture. But in the case of #ItsComingHome, it's more akin to stealing culture's lunch and flogging it off to the highest bidder. (And don't get me started on the ethics of promoting gambling via unwitting users.)
Selling off hashtags that organically emerge as part of the cultural conversation is a blatant attempt at cashing in. At a time when big tech is under fire, Twitter can ill afford such a tone-deaf move. They should focus on building culture, not making a quick buck.