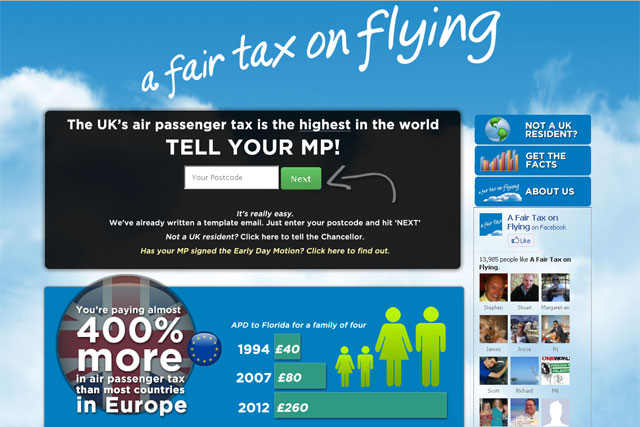 It was created as part of the Fair Tax on Flying campaign, a coalition of 35 travel brands and bodies, from Virgin Atlantic and American Airlines to TUI Travel and Lastminute.com, which launched last year.
The site itself tells consumers, "You're paying almost 400% more in air passenger tax than most countries in Europe. This is followed by, "Air Passenger Duty (APD) is bad for families, bad for jobs and bad for growth. That's why many countries, including Holland and Denmark have scrapped their passenger taxes."
Consumers are encouraged to lobby their local MP by sending a pre-written email. Consumers who are not UK residents, are able to email the chancellor of the exchequer instead.
The site, which is supported by a separate Facebook page, also directs consumers to Parliament's early day motion on APD, to see which MPs have already given their signatures.
Seventy-five MPs have signed the motion, which was tabled in June and reads: "That this House believes that the UK's air passenger duty, the highest air passenger tax in the world, is acting as a deterrent to both inward investment and inbound tourism; is concerned about its financial impact on ordinary families and their ability to fly; notes the impact on businesses wishing to export to emerging markets; and calls on HM Treasury to commission a comprehensive study into the full economic effects of aviation tax in the UK, including its impact on employment, reporting in advance of the 2013 Budget."
The news comes days after Virgin Atlantic, easyJet, Ryanair and International Airlines Group (IAG) are believed to have united again in their fight against APD, to commission a report from PwC outlining its direct consequences to consumers.
APD rose by 8% in April and sparked further calls from the heads of the four airlines to urge the Treasury to review the tax.
The rise in APD on short-haul flights means consumers now pay £13 in tax compared with the previous £12, while the tax on long-haul flights above 6,000 miles has risen from £85 to £91 per person.
Follow @loullamae_es