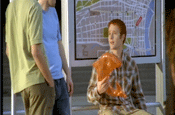 The new TV ad was filmed in Buenos Aires and depicts a sunny morning in an urban train station with crowds of people lining the platform as two trains arrive.

The doors burst open to release thousands of animal-shaped orange balloons that swell into the air and through the crowds, signifying that its Animal packages are now available to pay-as-you-go customers.

The ad shows people playing with the balloons and picking the one they like the best.

The track "Hummingbird" by Canadian indie band Born Ruffians features in the ad.