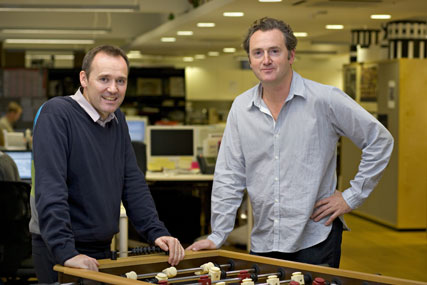 The independent enterprise has yet to be given a name but is being privately funded and will operate, in Green's words, as a collective of people working in a new way that can "take up the shape that tasks demand. These are the most exciting times in our business for years, and a blank canvas is very exciting."
Green and Flintham, the former Fallon chairman and executive creative director respectively, have worked together since founding the agency in 1998. Both have had a long working relationship with Rumbol, their former Cadbury client who presided over Fallon's award-winning campaigns for the brand, including the "gorilla" TV ad.
Rumbol, who left Cadbury in April, says that one of the key ingredients of the new venture will be flexibility: "The flexibility in the structure will enable us to really listen to what clients want, rather than having a fixed approach." Waring, a Fallon partner since 2000, will take responsibility for the commercial side of the company.
Robert Senior, the SSF chief executive, is focusing more of his energy back on Fallon: "I'm going to throw everything at making Fallon as good as it can possibly be. That is my moral and fiduciary duty."
Senior, Green and Flintham founded Fallon London in 1998 alongside Andy McLeod and Michael Wall. McLeod left the agency in December 2006. Wall resigned in 2007.