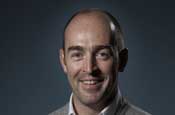 The former Fallon president of international and founding partner of the London office was widely expected to step down after moving to Lisbon with his family last year. He will now take a sabbatical before considering his options in the autumn.
Wall, 39, joined Fallon as a founding partner with Robert Senior, Laurence Green, Richard Flintham and Andy McLeod in 1998.
In 2004 he was promoted to president of international, a position he took in addition to his London responsibilities. He is widely credited with a leading role in winning the pitch for Orange, an account shared by Fallon in London and Publicis in Paris.
Wall said: "I'm extremely proud of our achievements at Fallon, but this was always a moment where I wanted to make a change of lifestyle, and I'm privileged to be able to do so. I remain enormously proud and grateful for the opportunity to have worked with Pat Fallon and my partners."
Senior added: "It's classic Michael: plans the impossible and executes it brilliantly. I'll miss him as a business partner, but mainly look forward to continuing our long friendship."
Wall is the second Fallon founding partner to leave the agency. Last year, McLeod, the former joint executive creative director, quit to launch a career as a director at the production company, Rattling Stick.