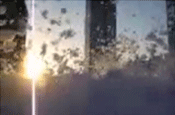 The shoot, which took place in Miami earlier this month, saw several blocks in the city drowned in foam.
The ad is for Sony's camera range, including the Sony Handycam and Cybershot ranges.
Around 200 visitors including bloggers were invited to the shoot.
They were equipped with the latest Sony technology to take pictures while wading a sea of suds.
Fallon used the world's largest foam machine, capable of creating 2 million litres of foam every minute.
The ad, dubbed "Sony Foam City" is directed by Simon Ratigan, the director of Super Size Me, and produced by HLA.
Below are a couple of clips from the shoot: