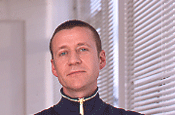 McTear joins as a creative director across the agency's accounts, while Steiner will fill a newly-created role, working alongside the executive creative director, Richard Flintham to produce longform content alongside TV and digital campaigns. His appointment does not affect the joint heads of television, Nicky Barnes and Charlie Orr.

The Fallon managing director, Karina Wilsher, said: "Tony and Rob both have incredible creative energy and ambition, and that's what makes them feel instinctively Fallon. It's a great time for the agency to have even more talent on board."

"There's an incredibly high bar at Fallon, that's why I want to work there," McTear added.

McTear joined TBWA\London in 2004 and went on to win the Grand Prix in Cannes that year with the "mountain" spot for Sony PlayStation 2 before quitting in June 2007 without a job to go to.

He began his career at Elgie Stewart Smith in 1987 before moving to Abbott Mead Vickers, then Bartle Bogle Hegarty, where he worked on accounts including Audi and Levi's.