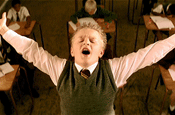 The agency will create campaigns to run across TV, press and outdoor and reinforce its brand positioning as a healthy snack for children.
The appointment comes nine months after the account was first put up for review. Kerry Foods, the brand's parent company, invited Quiet Storm and Ogilvy Advertising to pitch, but the process was subsequently put on hold.
Quiet Storm, the incumbent, was then taken off the Cheestrings account in September, although it continues to handle a number of brands for Kerry Foods, including Mattesons and Mr Brain's Faggots.
The agency created a number of campaigns for Cheestrings following a relaunch of the brand in 2006 that aimed to give it a healthier image.
One was the "you just gotta" campaign that featured a schoolboy eating the product in his lunch hour before leaping up and bursting into song. It was followed by a £1.7 million back-to-school campaign comprising TV, online and point-of-sale activity.
The campaigns coincided with new Ofcom regulations on junk-food advertising to children that came into effect in April 2007. The rules banned foods high in fat, salt or sugar being shown during or around programmes that were made for, or could appeal to, children under ten.
Kelly Rafferty, the marketing manager at Kerry Foods, said: "We are delighted to be working with Fallon. The agency has a fantastic record of delivering cut-through creativity based on strategic insights."
Chris Willingham, a partner at Fallon, added: "Cheestrings is a great brand that's misunderstood. We look forward to changing those perceptions and having a lot of fun along the way."