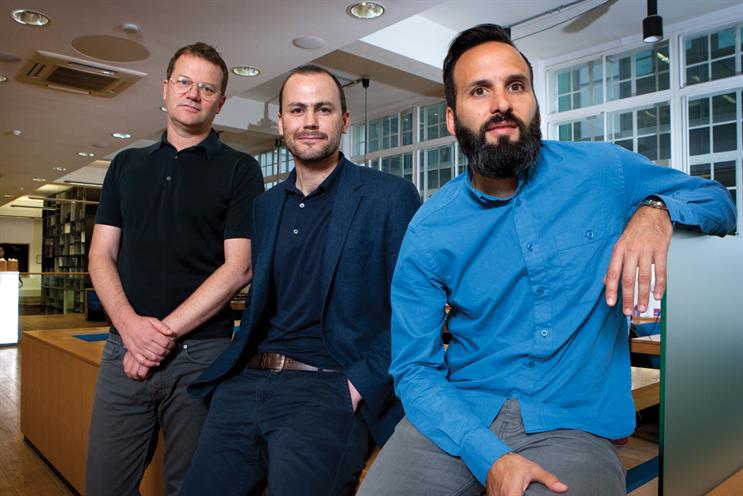 Appropriately enough, there's a gorilla in the room. The new leadership team at Fallon are discussing their plans for the agency and its current reputation when Santiago Lucero, the executive creative director, snaps.
"You were talking about the glory days… I'm pissed off about the glory days. They happened in 2007. It's been a long, long time. We were not here," Lucero says. "I want to focus on what we're doing now. Of course, we can do better and we want to do better, but I really believe we are doing things in the right way."
Fallon's heritage certainly weighs heavily on the trio, who will share the leadership responsibility following the sudden exit of the chief executive, Gail Gallie, last month to work with businesses outside the advertising industry.
The line-up comprises the managing director, James Townsend, who hails from outside traditional adland; Lucero ("a free-thinking Argentinian", according to Townsend); and the chief strategy officer, David Hackworthy (whom Townsend calls "a deeply experienced and worldly strategist").
It is no secret that Fallon is no longer enjoying the halcyon days of Sony "balls", Skoda "cake" and Cadbury "gorilla". The agency has suffered a series of setbacks in recent years, not least a 40 per cent drop in billings in 2009, the 2010 departure of the co-founders Laurence Green and Richard Flintham – who went on to set up 101 – and the loss of the £43 million Orange business in 2012 when the spend was consolidated behind the EE brand.
But Lucero has a point: 2013 was a brighter year. Fallon won four out of seven pitches, bringing in Scottish Power, Giffgaff, Netflix and Mikado – Fallon's first Mondelez International brand beyond Cadbury. Gallie (pictured, right), along with her senior team, also made changes internally to instil a more open culture.
"Gail built a bridge to the next chapter of Fallon. Last year, we had strong momentum, which is an incredibly difficult thing to find," Townsend says. "The ambition is to grow that. We have a huge task ahead of us and we're excited by that."
The trio are quick to dismiss any suggestion that the decision not to replace Gallie – and share power among them – is driven by financial concerns. "That's the last cut you make," Townsend points out.
Instead, they argue it is a sign of the open and collaborative culture they have created and will continue to champion in the business.
"It's pretty simple: Santiago takes the lead on creativity, David takes the lead on strategy and I try to keep the lights on," Townsend explains. He argues that the best answers come from a combination of all three approaches, not just in the agency's leadership but throughout the business.
The three have worked – and sat – closely together since Hackworthy joined Fallon in January 2013, so there is already an established relationship and shared ambition. "It's not like we were just sleeping before. The only difference is that now we have to take the final decision," Lucero says.
They are also unequivocal when rejecting the perennial rumours that a merger may be on the horizon with Fallon's sister Publicis Groupe agency, Saatchi & Saatchi. "Since [Fallon's founder] Robert Senior moved to Saatchis [in 2007], the industry has been saying that. We haven't merged," Lucero states.
"The proof would be that this would be a time to do it, but they are not doing it," Townsend adds. "There is a belief within the Publicis portfolio that there is a role for a creatively focused boutique." "A creative agitator," Hackworthy interjects.
Townsend continues: "There are also clients that cross over sectors so, for lots of reasons, it doesn't make sense. There is confidence from the senior groups within Publicis that this team, and the team we've got around us, have the ability to get us where we want to go."
The plan is to continue to invest in creativity, grow Fallon's client portfolio and create optimal conditions for its staff to produce great work.
In the first quarter of this year, Fallon strengthened its creative firepower by welcoming four new teams. Lucero, Hackworthy and Townsend are keen to "challenge the natural gravity" in the way agencies work by pulling together bespoke teams for clients and changing the traditional process.
"Instead of passing a brief around, get all the stakeholders who can have an opinion in the room together and thrash it out," Hackworthy says. "That way, you can take a big step forward quickly and you have more space and time to craft good work, rather than paying respect to the traditional relay-race process."
Fallon will also continue to look for interesting partnerships outside of the advertising bubble.
For example, the agency worked with Josh Cole – who has directed music videos for Rudimental and Chase & Status – on its latest work for Giffgaff, rather fittingly called "we're all the boss".
For Hackworthy, success is not about winning awards but about being part of the conversation and being remembered when people say: "I wish I'd done that."
He adds: "We have a lot to live up to in the Fallon name but, for us, it's about taking creativity seriously in everything we do. It isn't much more complicated than that."