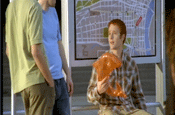 The new TV ad was filmed in Buenos Aires and depicts a sunny morning in an urban train station with crowds of people lining the platform as two trains arrive.

The doors burst open to release thousands of animal-shaped orange balloons that swell into the air and through the crowds, signifying that its Animal packages are now available to pay-as-you-go customers.

The ad shows people playing with the balloons and picking the one they like the best.

The track "Hummingbird" by Canadian indie band Born Ruffians features in the ad.

The eight-week campaign will run over TV, print, outdoor and online from 19th May.

Tony McTear, creative director, Fallon London said: "We set out to give the animals a fresh spin and energy that signals something new is happening at Orange."

The ad will break on Monday - come back and see it then.