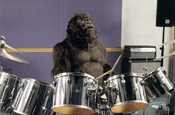 Meanwhile Abbott Mead Vickers founder David Abbott was commended into the 2008 Hall of Heroes, only the second person to be awarded such an accolade after Paul Arden was inaugurated last year.
The Creative Circle event, held at The Brewery in the City, saw Fallon's "Cake" spot for Skoda and Cadbury's "Gorilla" ad both awarded best TV commercial. "Gorilla" also picked up best use of music, "Cake" also won the best idea in 60 seconds category.
Fallon also scooped best campaign or series for "Play-doh" (Bravia), "Music Pieces" (Walkman) and "Experiment" (HD products); while Juan Cabral, the creative director behind the work, received the president's award.
Gorgeous, the production company behind "Cake", picked up gongs for the ad in three additional categories including best direction, best production design and best use of music.
It topped a successful night for Fallon, which was also awarded the prestigious Platinum award for its work throughout 2007.
Bartle Bogle Hegarty's "Time Theft" spot for Vodafone won in the best cinema category as well as best editing; while Abbott Mead Vickers BBDO "Kill the Gun" spot for Choice FM scooped best public service commercial.
WCRS' "Effortless" spot for Brylcreem was awarded for best multimedia campaign, and Lean Mean Fighting Machine's "Non Stop Fernando" site for Emirates scooped gold in the best multimedia campaign category.
In the press categories, Leo Burnett's "Think!" series for road safety was awarded best press campaign and best newspaper advertisement.
The awards were introduced by Coy's Mark Denton, the president of the Creative Circle, and hosted by comedian Jimmy Carr.