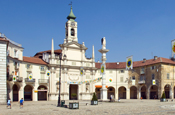 The ad will feature a giant zoetrope (a cylindrical device containing static images, which appear to move when it is spun), which Fallon is building in the village.

The zoetrope will contain images of Kaká kicking a football and onlookers will be able to interact with the structure as the ad, to promote Sony Bravia's "motionflow" technology, is being shot.

To read Campaign's blog from the shoot, visit www.brandrepublic.com/campaign from 4 December.