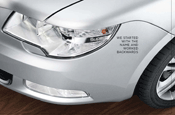 Each execution carries a tagline that plays on both the name of the car, and its features, including the Superb's door system (which enables the car to change from a saloon to a hatch-back) the extended legroom and the Park Assist system. ?

One ad, borrows from a familiar strap line, explaining: "it does exactly what it says on the boot."

Only small portions of the car are shown, in a bid to encourage people to go online to reveal the full image of the new marque.




Credits

Project name
Skoda Superb ?
Creative agency
Fallon?
Client
Mary Newcombe, head of marketing Skoda UK?
Brief
Launch the new Superb ?Executive
Creative director
Richard Flintham?
Art Director
Chris Bovill
Copy Writer
John Allison
Account Director
Simon Owen
Agency Planner
Tamsin Davies and Tom Goodwin
Agency Producer/Art Buyer
Susie Morley?
Photographer
Matthew Donaldson?
Media Planner
Jonathan Durling and Tim Davies?
Media Agency
Mediacom
Retouching/typography/graphic design
Theo Cook for Matthew Donaldson
Exposure
UK only