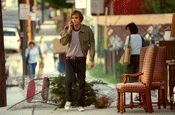 Anheuser-Busch called a review of the account in July, shortlisting Euro RSCG London and fellow incumbent Rainey Kelly Campbell Roalfe/Y&R alongside the two finalists.

The review was run by the Budweiser UK marketing manager, Vicki Kipling, who replaced Jim Gorczyca in the role earlier this year.

The process marked the first time the UK office of the US-based brewing giant was afforded the freedom to appoint its own agency.
Historically, DDB, Anheuser-Busch's global network agency, has handled most campaigns, although RKCR/Y&R had created work for Budweiser's sponsorship deals since its appointment to the roster in January 2004.

A spokeswoman for Budweiser denied a decision had been reached, and said the company would release a statement about the review on Friday. Both Fallon and DDB London declined to comment.