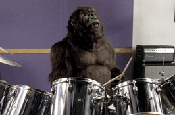 The ad, which also won a Yellow for best use of music, topped a strong night for Fallon's television ads, which picked up a number of Yellows in other categories.
Sony's
Play-Doh
won in the both the animation & visual effects (Passion Pictures) and direction (Gorgeous) categories.
"Creativity is fast migrating from a 'nice to have' to a 'must have', so awards like this are increasingly precious. To win across so many of our clients is the ultimate accolade," said Laurence Green, Chairman, Fallon.
In the special effects categories, its
Belonging
spot for Orange and
Cake
ad for Skoda won in practical special effects, while its
Meat
idents for BBC3 won in the TV & Cinema Graphics category.
Bartle Bogle Hegarty also turned in a strong performance, with five of its ads picking up awards.
They included
Time Theft
for Vodafone which won in the editing category and the
F**k Off
press campaign for Barnado's which won in both the newspaper and magazine press ad categories.
Its
Dangerous Liaisons
spot for Levis picked up Yellows in the editing and directing categories, while its
Get in There
campaign for Unilever Lynx triumphed in the mobile marketing category.
WCRS won two awards for the
Effortless
spot for Brylcreme which won two Yellows in the TV & Cinema craft categories.
Mother won a Yellow in the writing category for its Gold Spot campaign for Orange that featured Men Suvari, Val Kilmer and Macaulay Culkin.
But the UK failed to flex any digital muscle. The Viral Factory¹s How We Met campaign for Samsung Mobile, which picked up was the only UK winner of any online category.
Others black pencil winners included
The National Gallery Grand Tour
by The Partners (poster); the
Get the Glass
microsite by Goodby, Silverstein & Partners for California Milk (website) and Project Inc¹s
Uniqlock
site for Uniqlo (digital campaign).
Apple also walked away with two black pencils in the product design categories. Iphone won in the leisure category, while i-mac was awarded for the work and industry category.