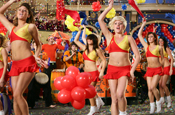 Volunteers from all over the UK gave their time for payment in chocolate bars to star in the shoot.

They had signed up to offer their time on a Wispa-created website.

After receiving 2,281 pledges in 25 days, Cadbury selected more than 300 fans to star in the ad.

These included 33 cheerleaders, two belly dancers, an opera singer, two marching bands, a barbershop quartet and two ballroom dancers.

The shoot finished with a massive firework display, and the ad will break on 20 December.