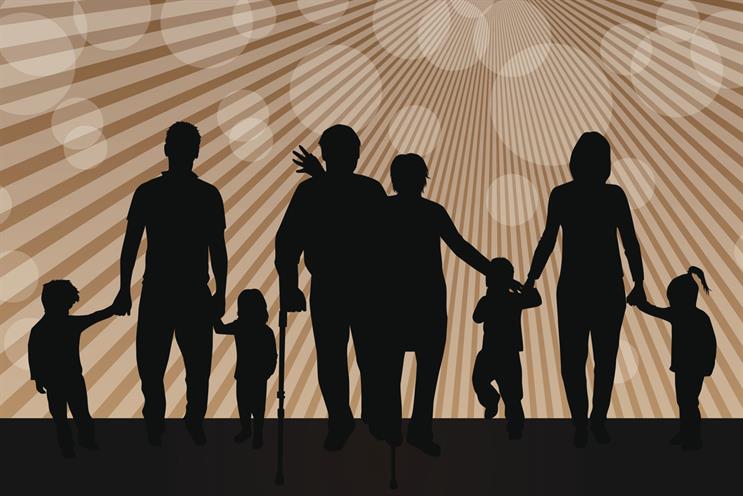 We all know the communications world is changing and, with it, the way media planners think about audience behaviour and craft media strategies, but what of the social changes that continue to impact our daily lives?
As part of our Future of Britain research initiative, OMD UK teamed up with Time Inc UK to study British families. For the joint Future of Families research, 4,000 Britons were quizzed to find out how important the family as a social unit is to people and what that unit looks like. The study also investigated the roles of family members and whether technology was having a negative or positive impact on people in the family context.
It revealed that the way we think about families has become more fluid. This fluidity goes beyond the growth in family categories we have seen over the past 20-30 years, with single parent families, LGBT parenting and post-divorce second families all joining the traditional nuclear family.
Brands must stop thinking of the family as a unit or defined group of people. The research suggests families are a looser mix of people and more of an idea than an institution.
We found that 19 per cent of people include friends as part of their family nucleus, while 36 per cent include in-laws and 29 per cent believe pets are part of the family. Fifty per cent believe there simply won't be a typical family structure in the future.
This suggests that influence over decision-making, particularly for high-value purchases, is becoming more complex. It is no longer safe to assume that parents are the core decision-makers and gender roles are more fluid.
Families are a looser mix of people - more of an idea than an institution
We compared the results of this study with Time Inc UK's research from 2008 and found that parents are sharing key decisions on: childcare and upbringing, up from 54 per cent to 67 per cent; working and earning, up from 34 per cent to 41 per cent; and shopping decisions, up from 24 per cent to 33 per cent.
It's also clear that children are playing an increasingly influential role in families. Our study in 2013 identified "Generation Rent", a demographic of young adults unable to leave home as a result of being priced out of the housing market. The Future of Families research suggests this group are taking on adult responsibilities and contributing to family decision-making. For example, we found that a third of 16- to 24-year-olds act as an emotional support for parents and 36 per cent advised their parents on a life decision.
There is strong evidence that grandparents and in-laws have been pulled more closely into the family core. In an average week, 64 per cent of UK grandparents are asked to look after their grandchildren. These "grandminders" are likely to be influencing household spending.
Rather than being a barrier to communication, our research indicates that families see technology and media channels as facilitating closer relationships. The challenge for media planners is to navigate their way through the use of different technology, but also understand who has influence in a world where there is no such thing as a conventional family unit.

Rian Shah is the managing partner of strategy at OMD UK