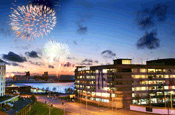 Leith shopping destination Ocean Terminal has appointed family to develop its advertising and marketing activities.

And the agency has also been appointed to work with Archibalds furniture store in Aberdeen, to work on advertising, in-store and marketing activities.

Ian Wright of family said: "Ocean Terminal is a unique shopping destination and our role will be to convey what makes Ocean Terminal so special.

"And Working with another store in the Sterling Furniture Group allows us to demonstrate our retail skills in this competitive sector".

Family has already carried out work for the Sterling Furniture Group's Edinburgh store, Martin & Frost.