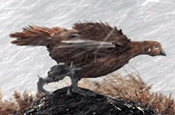 The pitch process, which is being handled by the AAR, is still in the early stages, but it is thought that the brand is planning to up its spend on digital marketing.

In the past, it has created a number of ad hoc online campaigns, working with agencies on a project basis.

In 2006, the integrated agency bd-ntwk launched a campaign that promoted the brand's sponsorship of the Scottish Rugby Union, by making rugby fans "famous for 15 minutes".

The agency filmed fans' reactions and opinions during Scotland matches in the Six Nations rugby tournament, and placed the clips on a specially created website.

The Famous Grouse is better known for its TV ad campaigns, particularly over the Christmas period.

In 2007, Abbott Mead Vickers BBDO created a £1 million TV spot that depicted the grouse on a rock braving heavy winds, and as a bonnet ornament on a classic car.

The whisky brand has also run a number of integrated campaigns, including its Famously Funny Comedy Tour, in which it sponsored a series of stand-up gigs by comedians including Frankie Boyle and Jimmy Carr.