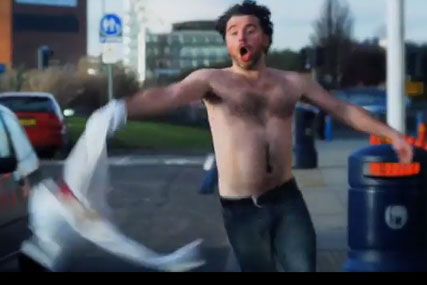 The 60-second spot, which was created by the Cheshire-based agency Origin Creative and will run on United's TV channel MUTV, features a fan purchasing a TV using his Manchester United credit card.

The supporter is so happy with his purchase that he decides to celebrate by running out of the store and re-enacting Giggs' iconic celebration, by removing his shirt and swingeing it over his head.

After completing the celebration, the man returns to his disapproving wife, who informs him: "You're not Ryan Giggs...and you've got the car keys".

A voiceover adds: "The Manchester United credit card – well worth celebrating".
Matt Casey, the creative director of Origin Creative, said: "Any diehard United fan will be instantly familiar with the feelings of joy that the Giggs celebration conveys. We thought it was a great way to convey how fantastic the United card's membership privileges are".

United, who face Bayern Munich tonight (30 March) in the UEFA Champions League, has come under fire from a section of its fans in recent weeks, who have voiced their anger regarding how the club is being run.

The fans have given their backing to a group of financiers called the Red Knights, who plan to wrestle control of the club away from the current owners.