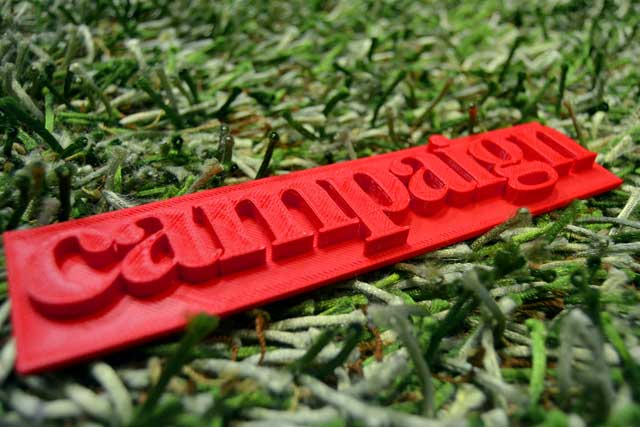 It's happening again. Another industry is experiencing a seismic shift being brought about by innovative technology and the web. And, this time, respected economists argue it could herald a "third industrial revolution".
Hold on to your bespoke 3D printed hats and welcome to the world of digitised manufacture.
3D printing (or additive manufacturing, as it is properly known) is a hot topic right now. But beyond the big stories of printed space-station parts, food, medicines, aircraft wings and replacement bones, the exciting news is that 3D printers are becoming affordable. We should know. The Collective Labs team have built one. From - wait for it - a kit of 3D printed parts.
Affordability = opportunity
The cheapest ready-made desktop 3D printers are now available for around $500. Which begs the question: when personal manufacturing becomes viable for the masses, what opportunities will this create for brands?
The "democratisation of manufacture" could herald exciting developments for marketers - developments forged by powerful trends that are already shaping the marketing landscape: the growth of one-to-one relationships, the continuing trend towards co-creation and reduced brand "control" and the move from manufacturing to service models.
Mass-personalisation
Just as marketing is transitioning from a one-size-fits-all to a bespoke approach, the advent of 3D printing will allow personalised product manufacture on a mass scale.
Imagine downloadable products - from plastic toys to car accessories - personalised via colour and design specifically to my needs and then printed either at home or via a third party. The challenge for marketers will be to create ideas and strategies to harness this ability to mass-personalise.
Social manufacturing
The most socially active brands are already using brand advocates to suggest product enhancement. But imagine a feedback loop of advocates physically improving your product - suggesting and producing design enhancements. This is co-creation taken to the next level, with individuals partnering brands to create new products that can be shared within communities.
Advocates may become "brand franchisees" as individuals, groups and communities take stakes in their mutually developed product. Just as brands have less control over their public persona, 3D printing will see them having to loosen control over their manufactured product - with all the challenges around protecting IP that brings. That said, haven't we been here before with music and film?
Printed brand equity
So I've configured my car online and compiled my personalised brochure. Next step? I print off a scale model of the car I'm thinking of buying. Or perhaps I'm shopping on Amazon and am offered a sunglasses case to download with my holiday purchases. Or that free Lego newspaper promotion. You could be downloading and printing the blocks yourself.
Brands will have an exciting opportunity to deliver cost-effective promotional material as "printed brand equity" takes on a similar mantle to branded video today. You can easily imagine brands providing 3D printed gifts for loyalty. A limited-edition pair of Nike trainers, perhaps? Personalised for you. Made by you. All from the brand that loves you.
From manufacturing to service
Just as we've seen Nike move from selling sportswear to creating a complete ecosystem to helping me be a better athlete (of which product is just one component), so 3D printing will move more manufacturers in the same direction.
Brands will need to find new relevance in people's lives to lock in customers and create loyalty: from useful software to complement their manufactured goods to new digital products that build on their positioning. Added value and complimentary services will be the key to survival in a 3D printed world.
A final thought
A world of mass-market desktop printers may seem a fair way off - and the technology needs to develop significantly - but change is happening. What's more, online manufacturing companies and communities such as Shapeways and Thingiverse are thriving. More than ever, it's the duty of agencies to help their clients embrace and experiment with new technologies. Why? Because in today's fast-changing world, being ahead of the curve is the only safe place to be.
Nick Constantinou is the chief executive at Collective London.
HOW 3D PRINTING WORKS
- User uploads 3D file to computer
- Software breaks down file into thin layers
- Each layer is printed using a solid material (eg. plastic)
- A solid object emerges