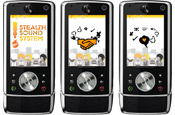 The application is based on the same technology used to deter teenagers from hanging around outside shops and bus shelters, the Mosquito Teen Repellent, developed by Howard Stapleton.

The application, Fanta Stealth Sound System, uses high-pitched frequencies, only audible to the under 20s.

It includes wolf-whistles, warnings, pssts and sound tags for phrases like "cool", "uncool", and "let's get out of here".

It will be available via a new Fanta WAP site developed by The Hyperfactory.

Heaven 17 and The Human League founder, Martyn Ware, developed the sound tags, XS2TheWorld developed the application, and creatives Mike Watson and Jon Morgan, and creative partner Alasdair Graham created the campaign.

Coca-Cola Europe is also launching a second mobile application, Fanta Virtual Tennis, a 3D Augmented Reality tennis game created by The Hyperfactory.