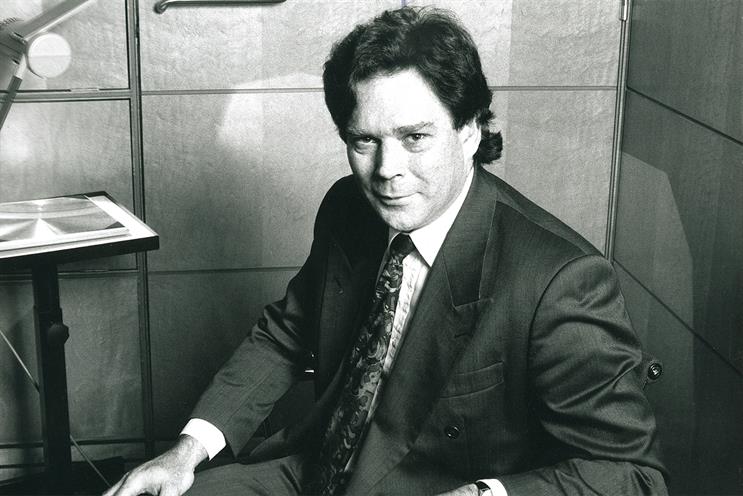 Sir Chris Powell
former chairman, BMP DDB
Although I knew that Chris was desperately ill in the last months, and that he'd taken a dreadful pummelling from the medics, I still believed that he would, somehow, come through. He always did. Chris was indomitable – when all around him fell away exhausted, or were too easily satisfied, he kept on making whatever it was better and better. No matter that he had a bad dose of flu or had just flown in from the West Coast, he would keep on through the night to make it as good as it could be.
He wasn't personally ambitious, but he was fiercely ambitious for his colleagues and for the change BMP was seeking to make to advertising.
Always encouraging and optimistic, always up for another go, never turning anyone away, he was a model mentor and leader. He was the epi­tome of that old dictum that you should only work with those who are both talented and good to be around, never just one or the other.
Jeremy Craigen
global creative director – Volkswagen, DDB
It is so sad about Chris. He was one of the most positive people I've ever worked with. As a creative, he would always make you feel good about yourself, even if the work was off-brief and off-good. Very rare for a planner… in fact, I never thought of "Cowpie" as just a planner, just a brilliant advertising brain.
James Best
former chairman, BMP DDB
A man who made working in advertising not only a fun thing to do but a thing worth doing, and worth doing well, Chris was at the heart of BMP's (and then BMP DDB's) 30-plus years of success. From being one of Stanley Pollitt's planning trainees in tiny, radical Boase Massimi Pollitt in 1972 to a co-chief executive of BMP DDB in 1999, his career and BMP's growth and culture were intertwined.
A tireless and stunningly successful new-business winner, he crackled with intellectual energy and the commitment to getting it right, regardless of any ob­stacles. But he never sought the glory for himself; always for the agency and the team.
Those qualities, plus his unflagging encouragement and support for those around him, made him a role model for generations of BMP and DDB people. That and his joie de vivre – glass of Chablis in one hand, cigarette in the other, the centre of a spontaneous party, keeping people's spirits up come what may. Kind and generous to a fault, he showed us all how to do it.
Tony Cox
former creative director, BMP
Chris was great fun to be with, an ardent supporter of good ideas and a man you'd want next to you in battle. Victory was usually celebrated over a bottle of Chablis. And so were defeats. He was a dear, sweet man who contributed greatly to BMP's golden era.
Richard Morris
chief executive, Identica
"Hello, mon brave!" would be the perpetually cheerful cry that greeted you whenever you entered "Cowpie's" office. He'd be perched, pen in hand, writing yet another pitch deck on whatever surface he could squeeze on to in an office piled high with shaky towers of presentations, research decks and letters. Chris always had time for you, and would always be eager to start grappling with whatever problem you'd come to lay at his door. His enthusiasm was infectious.
Other contributors will write, I'm sure, about his razor-sharp intellect, his determination to find not just a good answer to any problem but the best answer, his passion for new business and the twinkle in his eye. And, of course, Chablis; always Chablis.
But I'll remember Chris most for his astonishing kindness and generosity – with his time, which he gave freely, and of his ideas, which he bestowed on others with abandon. He interviewed me as a graduate trainee and then, for 25 years, I was lucky to call him my boss, my mentor and my friend. Everything I know about new business, I learned from him, and I'll miss him terribly. Farewell, mon brave.
Lucy Jameson
chief strategy officer, Grey London
Those of us who had the great pleasure and privilege of working at BMP all have incredibly fond memories of "Cowpie". I suspect many of those memories will feature Cowpie with a glass of Chablis in one hand and a pile of acetates in the other, in the wee small hours of the morning. Rewriting the strategy for a pitch the umpteenth time until it was razor-sharp and irresistible.
Chris was one of the warmest, most generous people I've met. A great listener and a great luncher. Chris was the explosive energy and intellect at the heart of BMP's thinking and new-business success. No-one was more dedicated to getting it right and dedicated to having fun while doing it. What a lesson for life.
Dave Buchanan
creative partner, Abbott Mead Vickers BBDO
If you were to ask me who in this business had indefatigable energy and a rapier-sharp mind; who genuinely thrived under pressure; who would think nothing of rewriting a presentation at two in the morning not because it wasn't right but because it wasn't right enough; whose mischievous smile, twinkle in the eye and cackle of a laugh could lighten any room; who re­cognised fun was as important as success; who had an unashamed penchant for caffeine, fags and Chablis; and who had a total love of people and life?
It could only be one man.
Chris was a true gent, charming and passionate, who helped cultivate the wonderfully collective "we succeed together, we fail together" culture that defined one of the greatest agencies there has ever been.