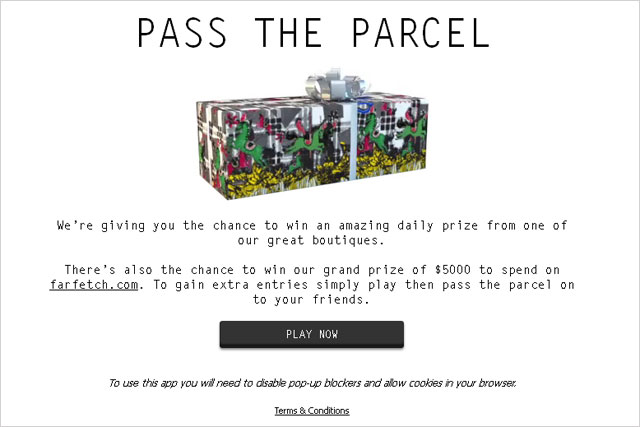 The campaign has been created by social media agency Yomego, and is based around the concept of a pass-the-parcel game, with the virtual "parcel" wrapped in paper created by four creatives from the worlds of art and design.
The game takes the form of an app sitting on Farfetch's website and Facebook page. It will be available to fans and customers from 100 countries.
Users "unwrap" the parcel for a chance to win a daily prize – each one selected by Farfetch.com's boutique network across Europe and North America – and then pass the game on to their friends.
The spread of each day's game will be tracked across Facebook and Twitter using a map, which features as part of the app. Players who pass the parcel collect individual prize draw entries for each share, with each entry counting towards a chance to win a grand prize of £3,000.
The design will change each week in the run-up to Christmas, and each print will also be promoted across Farfetch's website and social channels. The paper will also harness image recognition technology from Aurasma, allowing users to scan the designs and watch videos of the design process.
Rachel Waller, digital marketing manager at Farfetch, said: "Through working with these four creatives to develop the illustrations and the app, we are able to showcase the partnership both on and offline and communicate our unique business proposition."
Steve Richards, managing director of Yomego, added that the campaign would appeal to the brand's 200,000 Facebook fans by "avoiding the usual clichés" around Christmas.