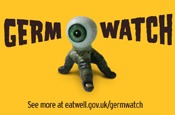 The new campaign is aimed at promoting good food hygiene practice by advising on the best ways to avoid food poisoning.

The brand identity consists of three elements: GermWatch wording. Grubeye (the brand character) and the Killer Facts.

Gary Robinson, the Farm creative director, said: It's exciting to have both a client and a consumer that are wanting a brand to behave in a sinister way.

It is not everyday that you are asked to create something in the horror genre and I think we managed it with a three-fingered character with an eyeball for a head."

The TV campaign will air on GMTV for three weeks from 9 June, alongside sponsorship idents created by GMTV.