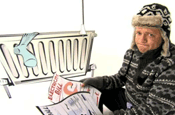 The agency won the business without a pitch and will be the company's first retained ad agency.

Since its launch nine years ago as a car insurance comparison site, Confused.com has produced its creative in-house.

However, the company now wants to differentiate its brand from its competitors in what is an increasingly cluttered market.

As well as moving into areas outside of car insurance, the company, which spent £16 million on UK media last year, also plans to increase adspend up to £25 million.

Carlton Hood, the chief ?executive of Confused.com, said: "We are the leading player in the car insurance market.

The time has come to defend what we have and push into new territories. We believe Farm has the ability to help get us there."

Farm will now be briefed to build on the company's positioning as the original price comparison website.