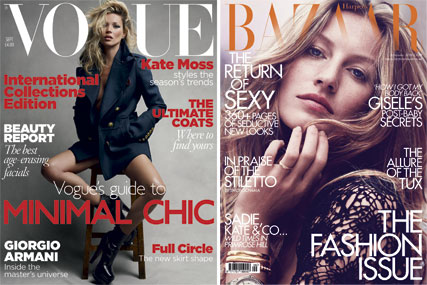 The fashion and luxury sector seemed to suffer as much as any other during 2009 but, judging by the door-step size of this September's issues of the leading fashion titles, it could be time to pop the Champagne corks and slip into something a little more expensive.
Traditionally the fattest issue of the year for any fashion title, this September has seen fashion magazines increase their ad pages by up to 16 per on last year.
Vogue, which features Kate Moss on its September cover, has achieved a 13 per cent rise in advertising pages, running 244 ad pages this September compared with 215 last year. Tatler is up by 11 per cent compared with last September.
Harper's Bazaar magazine, published by NatMag, has an increase of 22 pages, a 16 per cent rise, on last year, taking its total ad pages from 135 to 157.
Mid-market fashion magazines have enjoyed a similar boost, with NatMag's Cosmopolitan recording a 14 per cent increase in ad pagination and a 28 per cent increase in revenue. IPC Media's Marie Claire is up 5 per cent in ad pages.
Conde Nast's Glamour is also understood to have a healthier September issue. Its publishing director, Simon Kippin, said: "We are seeing a marked improvement in advertising volumes in the autumn issues, which is a very encouraging sign."