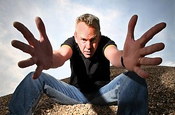 Launching in the UK next week, the success of the campaign will be assessed on how many times people rollover the banners to watch the promotional video for the band's new single "He's Frank".

Created by digital agency Silence, the cost-per-engagement format means that advertisers will only be paying publishers when consumers view the ad, rather than simply by the number of page views.

Lee Henshaw, founder of Silence, said: "Online advertisers will only pay agencies and publishers for display advertising campaigns that work.

"That's their experience with search engine marketing, so why should banner advertising be any different?"

Katy Ellis, label manager of Southern Fried, said: ""Like never before we have to focus on marketing that offers proven returns on investment.

"Silence combines the creativity we require from an agency with an irresistible media plan - if people don't engage with our ads, we don't pay".