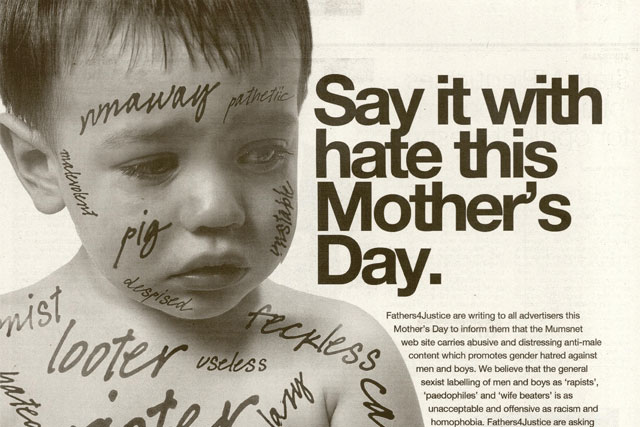 The ad, which was created in-house, ran in March across the national press.
It carried the headline, "Say it with hate this Mother's Day".
The ad showed a picture of a toddler with various negative words written over his body, including "pig", "rioter" and "wife beater".
The accompanying text stated: "Fathers4Justice are writing to all advertisers this Mother's Day to inform them that the Mumsnet web site carries abusive and distressing anti-male content which promotes gender hatred against men and boys."
It also demanded that advertisers boycott Mumsnet until Mumsnet founder Justine Roberts, "adopts a zero tolerance policy to gender hatred".
A total of 10 people complained about the ad.
Eight complaints said the "Mumsnet web site carries abusive and distressing anti-male content which promotes hatred against men and boys", copy was misleading.
Three of the complainants challenged whether the claim that Mumsnet had unfairly generalised men and boys as rapists, paedophiles and wife beaters was misleading.
Five of the complainants also challenged whether the picture of the toddler with various derogatory remarks written over his body was offensive.
Fathers4Justice said the ad underplayed the seriousness and gravity of the content they had seen on Mumsnet. It said it had complained to Mumsnet about the content and asked it to remove the content.
Fathers4Justice also argued the "abusive, anti-male content" continued to be posted on the site and considered that highlighting it was a matter of public interest.
In its ruling, the Advertising Standards Authority (ASA), ruled against Fathers4Justice on two of the three complaints.
The ASA noted Fathers4Justice understood that Mumsnet was responsible for posts written by users on the website's forums. But it also noted that Fathers4Justice had not sent it anything to suggest that Mumsnet had endorsed any of the views expressed on its web forums or any editorial content from the website to suggest that it endorsed, harboured or promoted gender hatred against men and boys.
The watchdog also ruled that the claim of "general sexist labelling of men and boys as 'rapists', 'paedophiles' and 'wife beaters' is as unacceptable and offensive as racism and homophobia" in the context of the ad, implied that Mumsnet endorsed these views.
It noted that Fathers4Justice had also not provided the watchdog with any evidence to suggest that this was the case.
The ASA did, however, find that the ad's image did not breach any rules but its overall ruling was that the ad must not appear again in its current form.
Commenting on the ruling. Justine Roberts, co-founder and CEO of Mumsnet, said: "We're pleased that the ASA have ruled that this ad was misleading, as the suggestion that Mumsnet encourages gender hatred would be funny if it were not so plain stupid.
"The central aim of Mumsnet is to make parents' (mothers' and fathers') lives easier. There are many and varied opinions on the site and no one Mumsnet party line prevails, save for the view that we respect diverse opinion.
"We believe that the issue of a father's access to his children is important and needs to be discussed.
"We understand that many Fathers 4 Justice campaigners are driven by intense personal anger over what they feel to be injustice in their own cases.
"But the recent actions the group have taken against Mumsnet constitutes plain and simple intimidation and a naked attempt to court publicity by a group of people who, for whatever reason, appear to have tired of climbing cranes in superhero outfits.
"And it does their cause no good at all."
Follow John Reynolds on Twitter @johnreynolds10