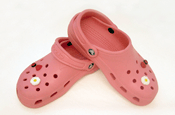 The brand, which until now has relied on word of mouth and PR, is planning to launch an advertising campaign this month to promote the summer range in women's magazines and newspaper supplements.

A campaign to promote the autumn/winter range will follow later this year. Both have been created in-house.

Laura Brown, an account manager at Feather Brooksbank, said: "Crocs is a fantastic brand to be involved with.

"We undertook initial research that really brought home the extent to which people either love or loathe Crocs.

"It is great to work with a brand that evokes such strong opinion, there's a real opportunity to expand its appeal and build on the success it has already achieved."