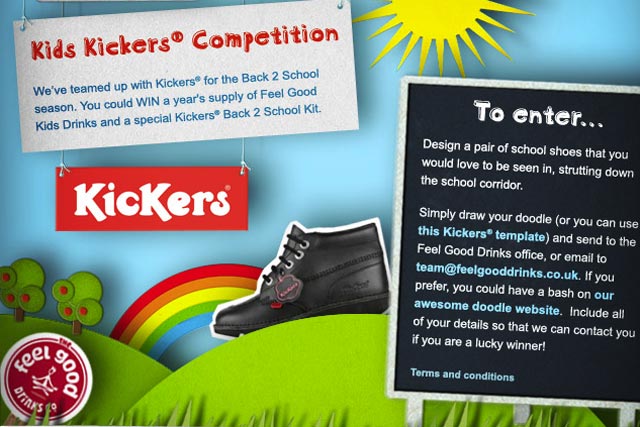 The 'Back to School' promotion launches this week and runs across the Kickers and Feel Good Drinks websites, supported by Facebook and Twitter activity.
Feel Good Drinks is giving away 10,000 coupons to consumers who purchase Kickers items through the www.kickers.co.uk site, redeemable until 31 October. The coupons offer £1 off four-packs of Feel Good Kids drinks.
The brand has also launched a Kickers competition on www.feelgooddrinks.co.uk, running until 30 September, inviting children to design a pair of school shoes.
The winner will receive a year's supply of Feel Good Kids Drinks, branded stationery and a Kickers Back to School kit, while five runners-up will win three months' supply of the kids' drinks range, stationary and a Kickers school backpack.
Each Wednesday until the end of the competition, Feel Good Drinks will give away similar prizes through its Facebook and Twitter pages.
Steve Cooper, co–founder of The Feel Good Drinks Company, said: "Sales of our Feel Good Kids juice drinks have doubled in size this year, as more parents than ever before are looking for healthier drinks for their children.
"This partnership with a great brand like Kickers will introduce more parents and kids to Feel Good Drinks, just in time for the back-to-school period. We believe this activity will be a huge success, as both brands offer quality products that kids love and parents can trust.
"We're also look forward to seeing some great new shoe designs from some creative kids."
Feel Good Drinks launched an interactive website and "doodle" application in January last year, in support of on-pack promotions for its kids' range.