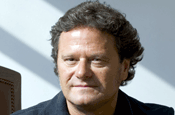 Vega Olmos joins from Lowe Latina (Lola), where he has been chairman since 2007.

In his new role, he will report to JWT worldwide chief executive Bob Jeffrey and will help steer the creative work across the two regions.

Jeffrey said: "With Fernando in place, JWT will offer clients an unparalleled roster of creative talent across all markets."

Vega Olmos began his career as a copywriter at Gowland & McCann Erickson, and has also worked at Ratto BBDO and Casares Grey, before he helped launch the start-up VegaOlmos Ponce.

He was the first Argentinian creative to win a Gold Lion at Cannes, and has been a judge three times at the festival.