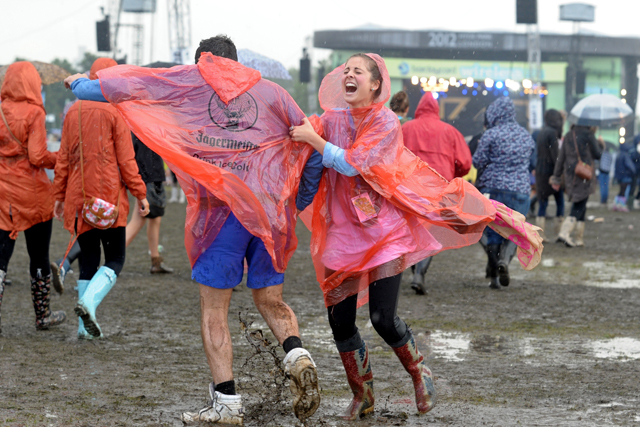 Jason Donovan tweeted his disappointment last week when news broke that his long-awaited reunion with Kylie Minogue, at The Hit Factory Live show in Hyde Park, had been cancelled due to the effects of adverse weather.
Expert View: Spencer McHugh, Everythng Everywhere
He is not the only one to suffer as a result of 2012's summer of festival gloom: many ticket-holders and brands have been left downcast - and, in some cases, out of pocket - by the cancellation of a long list of festivals, including Big Chill, Innocent's Fruit Sports Day and Morrisons' debut MFest in Leeds.
Organisers blame various factors for falling ticket sales, from the weather to the recession and the Olympics. Meanwhile, anxious marketers will wonder whether festivals - an increasingly vital part of summer marketing plans - are still effective for targeting consumers.
Make or break
Kristin Hallenga, founder of cancer-awareness charity CoppaFeel!, which is involved in festivals through activity orchestrated by agency Archibald Ingall Stretton, feels a shake-up is likely. 'This year is make or break for festivals - some will not happen again,' she says. 'There are so many and a few have cashed in by charging more and more, for brands and tickets. That's quite a risky strategy.'
Brands need to pick their festival carefully. With more than 500 in the UK alone, brands can tap into specific audiences, from the family-oriented Camp Bestival and student-targeted Beach Break Live, to the more literary Latitude. This works well for Swedish cider brand Kopparberg, which favours quirkier, less mainstream festivals such as Field Day, Beacons and Green Man.
'The big, generic, one-size-fits-all event is becoming boring and people are getting wise to it,' says Kopparberg UK head of marketing Rob Calder. 'The great stuff tends to happen on a much smaller scale. The smaller ones will grow in confidence and be bigger next year.'
Chris Collis, senior marketer for Alpro, the soya-based food and drinks brand, agrees. Working with agency iD Experiential, the brand's 'hit list' includes Wychwood, Cornbury, Latitude, WOMAD, Rewind and Electric Picnic, where it finds an audience more receptive to its message. 'We use several criteria to choose the right festivals,' he says. 'We've chosen quirky, culturally diverse events that appeal directly to our target audience and are open to working closely with our brand.'
'Festival fatigue'
The media has debated whether 'festival fatigue' and over-commercialisation are causing consumers to switch off from brand messaging. Some festivals, such as Hop Farm, are actively touting their 'no branding' policy.
Henry Scotland, experiential and sponsorship director at agency Iris, claims festivals are not too crowded a space for brands. He argues that some brands have been guilty of running 'mediocre' activity. 'Consumers have become unconsciously and deliberately adept at editing out activity that is lazy or irrelevant,' he says. 'Come with mediocre campaigns and they'll pass you by; come with something strong and they'll get stuck in.'
Dom Hodge, a festival aficionado and planning director at music marketing agency Frukt Communications, agrees that the opportunity to achieve 'brand love' remains strong for those presenting themselves in a 'meaningful way'.
Sophisticated approach
Marketers should take a more sophisticated approach, he says, using social media to start the narrative before the event and continue it afterward. Hodge cites Frukt's work for Southern Comfort, which took 'the brand story from New Orleans, updated it and revamped it' with an experiential campaign centred on a corrugated iron shack full of horn players and dancers. Photos of the activity were distributed via Facebook, creating a reason to talk to consumers after the event.
'Brands need to move away from just giving away freebies with no real story behind their involvement. Clever campaigns are now about keeping the goodwill and dialogue going from festival to festival, reinventing and improving as you go,' adds Hodge.
The deluge that washed away the best-laid plans of brands and organisers this summer will result in a diminished festival marketing investment from some brands in 2013. The ones that dry off and plan a return next year may well be rewarded for their resilience.
EXPERT VIEW - SPENCER MCHUGH
Director of brand, Everything Everywhere
'Festivals are not losing their sheen. What has happened this year (with the cancellations) is probably evidence that there have been too many. But I think festivals will come back in force next year.
In a way, with all the rain this year, we were fortunate that we were not affected, because our strategy is to be present at the original and biggest, Glastonbury, which is taking a break for 2012.
Glastonbury is still a great way for us to connect with people and their passions. We are less interested in boutique festivals, but I can see how those appeal to brands with specific niches to target. We like the diversity and scale of Glastonbury and have no plans to look at smaller festivals.
Last year we created a phone app, which was downloaded by huge numbers of people. It was fantastic to have a clear role, rather than just badging mobile-charging units. We're in conversations now with the organisers about next year, so we can make sure our contribution is original and done well.'