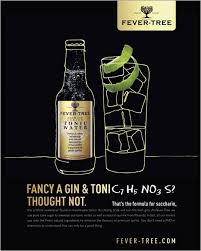 The company was floated on the AIM stock exchange in November 2014 for £154.4m. It is planning to spend £500,000 on a new campaign to help grow its brand and is considering hiring an agency to help evolve its print work.
Fever-Tree's marketing director Saskia Meyer said: "At Fever-Tree, we're currently exploring options to further communicate our core brand messages in 2015. One area of focus will be the '3/4 message', which has successfully resonated with consumers throughout our marketing to date and featured prominently in the creative of the tube print campaign in November 2014."

The company has used Brave for advertising work in the past. The agency created its first ever marketing campaign for the brand, which drew attention to its natural ingredients, in 2009. The print ad featured its tonic water with the line: "Fancy a Gin and ToniC7H5NO3S? Thought not'.
Fever-Tree was founded in 2005 and supplies hotels, restaurants, bars and cafes as well as supermarkets and off-licenses.
To celebrate its tenth anniversary this month, the brand is running a series of events in Manchester, Bristol and Glasgow, including a "gin and tonic safari" where visitors can try out different gins in different participating bars. Other events will include master-classes, city-centre sampling.
The company worked with FTI Consulting, the corporate and financial comms agency, ahead of its floatation last year. It uses Bacchus for its trade and consumer PR.