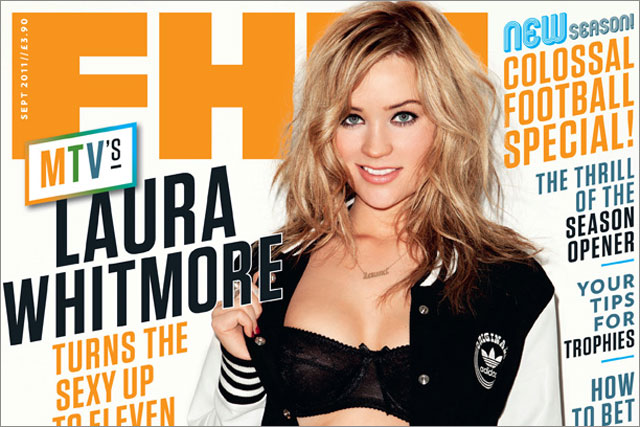 The big fallers across the sector were the weekly titillating titles Zoo and Nuts. The former fell by over 32% to 54,318 and the latter 22.5% to 114,019.
Jo Smalley, the publisher of Nuts, said the title would still be around in five years time, adding "the shape of the men's market has changed but there is an opportunity as much as a challenge."
Like his rival publishers, he pointed to its overall footprint, including digital and other formats.
Likewise, FHM publisher Rimi Atwal rebuffed suggestions that the title's continued heavy losses of readers would prompt its closure within five years.
But IPC, which publishes, severed ties with its men's lads monthly Loaded while monthly title Maxim could not survive the difficult market.
The latest round of ABCs figures also reveal some new trends including the rise of some of the less heralded men's health titles, such as Dennis' Men's Fitness and River's Healthy for Men titles. Both titles boasted rare year-on-year circulation rises.
Conversely, Natmag Rodale's Men's Health – still the market leader in the paid-for men's lifestyle sector – shed more than 11% of its circulation on the year.
Men's Health publisher Alun Williams maintains its fall is merely a blip, and dismisses the idea that consumers are turning away from pure health titles.
Williams said: "Our circulation has been going up over the past 10 years. We've had a disappointing period, because of poor sales at the start of the period. Now we have had a bit of a refresh to the title.
"People have not had enough of health titles. We are diversifying, doing more on adventure, more on nutrition. The brand is in rude health."
Rob Lynam, media buyer at MEC, agreed: "Men's Health's circulation is lowest in nine years in terms of average net circulations. But then you have to realise how quickly the sector has grown."
Other trends across the sector include the continued use of bulks to prop up ailing circulations, or as publishers view them – essential sampling tools.
Esquire gave away over 6,500 copies in the period, Wired nearly 10,000, Men's Health more than 12,000, FHM 20,000, and GQ close to 9,000.
The upmarket monthlies GQ and Esquire, meanwhile, appear to largely unimpeded by the shift to digital.
Neither of the two titles has made a great play about their digital credentials, exemplified by Esquire launching its first commercial website in November this year. Previously, Esquire's website was merely a holding page hosting blogs.
Commenting on the performance of Esquire – up 0.1% on the year to 58,218 – its publisher Tess Macleod-Smith pointed out that its June and July editions under new editor Alex Bilmes had shown a significant upturn in circulations.
Macleod-Smith said the new-look Esquire represented a more commercial entity on newsstands and has moved away from being a "niche product".