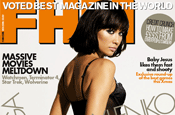 The title, which has repositioned away from the lads' end of the market under the editor, Anthony Noguera, saw its sales decline by 13.5 per cent year on year to 272,545, according to ABC figures for the year to December 2008.

Men's Health, the NatMag Rodale title, moved above IPC Media's weekly lads' title Nuts to claim second position in the market with a circulation of 250,094, up 4.1 per cent.

Nuts, and its Bauer rival Zoo, both saw double-digit declines in their circulations as titles at the lads' end of the market suffered.

Nuts now has a circulation of 234,034, well ahead of Zoo's 145,555.

Dennis Publishing's Maxim continued to haemorrhage readers, losing 41.4 per cent of its circulation to record a figure of 45,951, while IPC's Loaded was down 21.7 per cent to 90,071.

The more upmarket men's titles fared better, with Condé Nast's GQ up by 0.4 per cent to 130,094 and NatMags' Esquire also adding 0.4 per cent to its circulation to reach 60,051.

Bauer's Arena increased circulation by 16.4 per cent to record a circulation of 29,374.