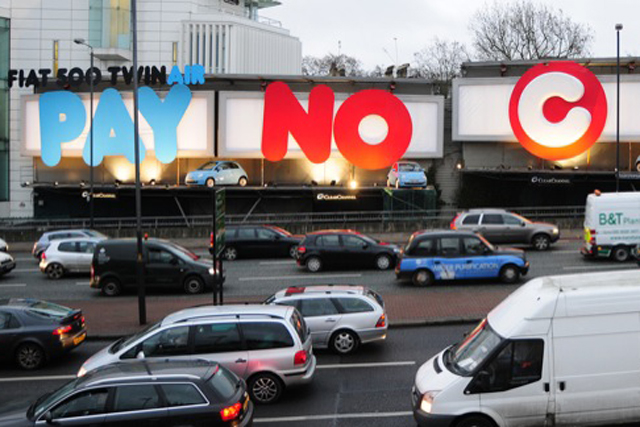 The Fiat 500 TwinAir is exempt because it emits less than 100 grams per km of CO2.
One key cog in the media plan conceived by media agency Maxus is Clear Channel's flagship site on the Cromwell Road. It bears the message "Pay no congestion charge with the Fiat 500 TwinAir" and runs across four consecutive 96-sheet billboards.
It is the longest advertising face in the UK, according to Clear Channel, and achieves an estimated 2.3 million impacts every two weeks. The site was booked through WPP-owned outdoor specialist Kinetic.
A spokesperson for Maxus said: "To let London commuters know, Fiat has launched a London focused multi-media campaign, seeking out key commuter touch points."
The campaign includes other outdoor elements including the use of sites such as Ocean Outdoor's Two Towers on the A4 as well as DEPs, targeting London's commuters.
The campaign, which was created by Krow, spans radio, press, TV and online activity, and includes a sponsorship deal with Lastminute.com.
The week-long sponsorship targets Londoners who are looking for things to do and contemplating day trips in the capital.