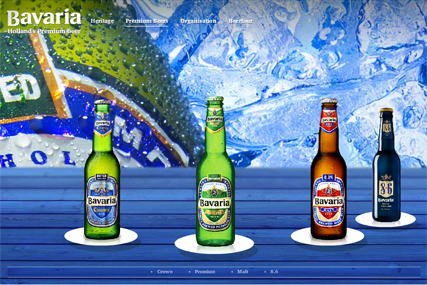 Football's global governing body said it was filing civil proceedings in South Africa against the company behind the campaign.
A criminal case has also been started against two women alleged to have masterminded the stunt.
On Wednesday, Barbara Castelein and Minte Immy Niewpoort appeared in the Johannesburg magistrate's court and were charged with contravening the South African Merchandise Marks Act.

They were part of the 36-strong group of women dressed in orange mini-dresses at the Holland-Denmark game on Monday. The dresses are associated with the lager brand as they are currently free with packs of Bavaria beer in Holland.

The stunt also led to ITV sacking its pundit Robbie Earle after tickets given to him to distribute to his friends and family were passed to a third party and ended up being used by the women.

It is against FIFA regulations to promote any brands other than official sponsors during the World Cup games, and South Africa passed laws ahead of the World Cup to protect FIFA against such activity.

The same beer company pulled a similar stunt in the 2006 World Cup in Germany when a group of Dutch fans supporting Holland wore orange lederhosen advertising the beer brand.

Budweiser is the official beer sponsor of the 2010 World Cup and was also the beer sponsor of the 2006 tournament.

A FIFA spokesman said: "The matter is now under criminal investigation, and the South African Police Service is proceeding as per the normal legislation. Simultaneously, FIFA is now filing civil proceedings in South Africa against the company that is behind this campaign."

The two women were released on 10,000 rand bail (£891) and had their passports confiscated. They are due to reappear in court on 22 June.

A spokesman for the South African Police said: "We view ambush marketing in a very serious light and we urge people not to embark on these ambush campaigns."

Industry experts say however, that if FIFA comes down too harshly on the brewery, it could look draconian to football fans and whip up negative publicity.

Nick Johnson, head of sponsorship and advertising law at international law firm Osborne Clarke, said: "Bavaria must be hoping the prosecutions don't lead to custodial sentences. Under the harsh anti-ambush laws that South Africa passed to protect FIFA's interests, that can't be ruled out.

Johnson added: "Of course, jail terms for these Dutch women could also mean significant negative coverage for FIFA. And that could also extend to FIFA's sponsors, depending on how things are played."

Nick Fitzpatrick, partner and head of DLA Piper's commercial sport team, said: "As the official sponsor, Budweiser is bound to be concerned and take another look at their contractual agreements."

He added: "But, I also suspect they will be want to avoid doing anything to increase the press coverage. For them, the less publicity the ambusher gets, the better."

Fitzpatrick said that there was a "rich history" of "guerrilla marketing" and unofficial sponsors using sporting platforms to get "instant brand value at a fraction of the official sponsors' investment".

At the World Cup in Germany in 2006, the Dutch fans who wore lederhosen advertising the brewery were asked to strip if they wished to continue watching their team play.

The British press have reported Niewpoort's name as Mirte Nieuwpoort but the South African police register her as Minte Immy Niewpoort.