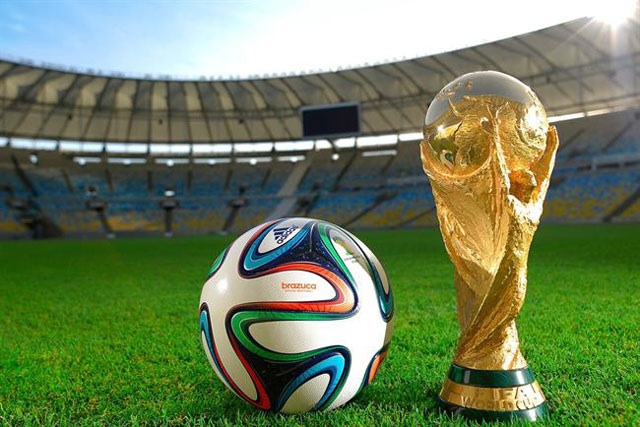 The group matches have set TV records in a number of markets, from Belgium to the US. Sales of television advertising and subscriptions have also benefitted.
A total of 11.5 million Dutch viewers (88.4%) watched their national team's victory over Chile – 10.2 million at home and 1.3 million in public places.
A record number of 42.9 million Brazilians tuned in to see their team's win over Croatia. while 81.3% of Croatians watched the game (1.5 million).
Brazil-Croatia was also the most-watched opening match in at least 12 years in the UK, with 11.2 million UK viewers (records going back to 2002).
The Belgium versus South Korea match was the most-watched football game in the history of Belgian television, reaching three million Flemish fans (82.8% of TV viewers) and 2.1 million French-speaking Belgians (82.1%).
Viewing records were reported also in the UK – a peak of 20 million (71% share) watched England versus Uruguay, the highest peak audience on any channel since the 2012 London Olympics.
Some 27.3 million (84.2%) viewers in Germany tuned in to watch Germany defeat the US and 15.3 million Italians (82%) watched the game between England and Italy.
Greek viewership peaked at 81.3% audience share for Greece's win over Ivory Coast, while 68.5% of Spanish viewers (11.2 million) caught the game in which their national team was defeated by Holland.
The French victory over Honduras scored 56.3% audience share in France – or 15.9 million viewers – of whom one million saw the game on digital platforms
Even in countries such as Sweden, where the national team didn't qualify, the World Cup gathered 48% audience share (2.64 million viewers).
The US's first game drew more than 11 million viewers – the highest-rated football match ever shown on ESPN – and nearly five million on a Spanish-language network.
Twitter's coming of age World Cup
As anticipated, there is also evidence of "second screen" applications growing in popularity, with Twitter reporting more than 300 million tweets about the World Cup so far. This dwarfs the 150 million tweets generated during the 16 days of the London 2012 Olympics.
Brazil's opening match against Croatia has still generated the most twitter conversation, with 12.2 million tweets.
The most retweeted tweet so far comes from Balotelli (@FinallyMario) commenting on England's chances after their clash with Uruguay – it has been retweeted more than 177,000 times and seen more than 17 million times on Twitter
Based on mentions on Twitter, the top five teams in the tournament are Brazil, Portugal, Spain, Croatia and USA, with England's Twitter performance far exceeding the team's efforts on the pitch, coming in eighth place.
The first England versus Italy match generated 7.2 million tweets, and England versus Uruguay, 6.7 million, making them the seventh and eight most-tweeted-about matches globally so far. England's final rubber duck match against Costa Rica only generated 1.5 million tweets.
The audited global figures will not be known for some time, but broadcasters are already optimistic that the viewing numbers for the final on 13 July may approach or even surpass the 909 million who watched the Spain versus Netherlands final in 2010.