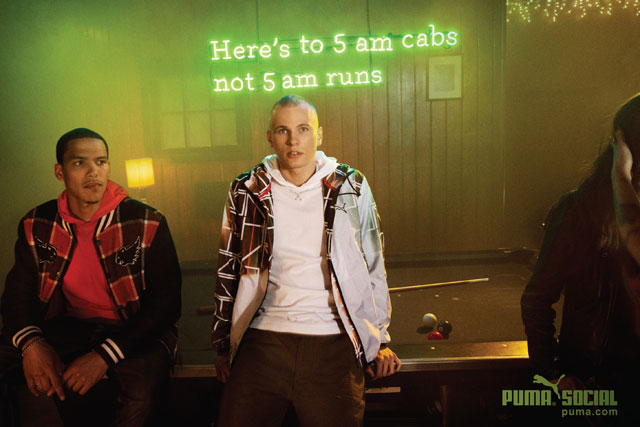 Of the 136 films that won in the Film category at Cannes this year, just nine were British. Saatchi & Saatchi and Abbott Mead Vickers BBDO were the only two of the nine UK agencies to land silver gongs, for their T-Mobile "welcome back" and Metropolitan Police knife-crime work respectively. No British film won a gold. However, the Brits picked up a gold in the Film Craft category, and 12 out of the 53 winning films were from these shores - a distinctly healthier ratio.
While creatives returned home either feeling hard done-by or determined to win more next year, editors, directors and production companies had yet again been recognised for their contribution to the commercials industry. Mark Roalfe, the chairman and executive creative director of Rainey Kelly Campbell Roalfe/Y&R, believes this recognition is well-deserved. "A lot of post-production excellence lives in this country," he says.
Who, then, are the stars of British film craft? Work, the film-editing company, had a stratospheric Cannes. Both the Film Craft Grand Prix-winner, Puma "after hours athlete", and the Film Grand Prix-winner, Nike "write the future", were cut by the company's Rich Orrick, who also scooped a gold Film Craft Lion for Nike. Ringan Ledwidge, who co-founded Rattling Stick with Danny Kleinman, also scored highly at the festival, as the director of the Puma spot. Stink, the production company, picked up a silver Lion for the cinematography skills displayed in Wieden & Kennedy's "kitchen odyssey" spot for Lurpak.
Where are the great UK films?
So why, when we continue to excel in film craft, are we apparently not producing the best commercials? In other words, where are the Nikes and the Old Spices of the UK ad industry? And if, as Cannes decreed, the directors and production companies are propping up the reputation of British commercials, what do they themselves think is the cause of the general film malaise?
Kleinman says that, in the UK, the standard of the top creative work is still there, "but there's not that much of it around. Generally, it's less courageous. There are lots of talented directors, but there's not enough great work to go around." He adds: "Creatively, in terms of the scripts we're seeing, we've been going through a bit of a drought."
If the affliction, then, is an arid creative landscape, it seems logical to conclude that creative agencies aren't able to create work as good as they once did. However, Kleinman disagrees: "I certainly don't think it's the fault of the agencies or the directors. My take on it is that it has to do with clients being fiscally challenged. There's a trend towards a more conservative approach, with dangerous, edgy work being avoided by clients. Creatives are writing those scripts but they're not being bought by the client."
However, Orrick says the fear felt by clients is having a domino effect on creative directors. "Clients are not being told anything they may not want to hear, for fear it will have an adverse effect on the relationship the agency has with the client," he says. Richard Huntington, Saatchis' director of strategy, agrees: "I think it's shocking that the industry wants to lay the blame at the feet of clients. The agencies are more scared than the clients. Too many agencies have become client-pleasers, afraid of losing business and procurement departments."
Worse still, when it could be the perfect time for creativity to become sharper and for advertising to work harder, the climate of fear appears, in most cases, to be restraining either clients or agencies (or both). Dave Masterman, one of the creatives responsible for the award-winning Drench "cubehead" work produced by CHI & Partners, says: "When clients are under pressure and in a corner, sometimes they're forced to do more breakthrough work. That said, I'm not sure we're seeing much of that at the moment."
As well as winning a Film Lion, Saatchis' "welcome back" work for T-Mobile was named the best commercial at this year's British Arrows. Everything Everywhere's brand marketing director, Spencer McHugh, says: "I think it's always the right time to look to brave and innovative work; irrespective of the economic climate, it's the brand manager's duty. It shows taking risks has paid off well for us."
The changing landscape
It appears, then, that for a campaign to succeed, it needs a great client, great agencies and a great production team. But at a time when relationships between clients and agencies are under intense pressure, what seems to have flourished during the recession is the bond between agencies and production companies.
Lizie Gower, the managing director of Academy Films and chairman of the British Arrows, says: "With clients forced to cut marketing spend and naturally being more circumspect about pushing creative boundaries, production companies and agencies find themselves collaborating more as allies to push creativity."
Kleinman also recognises a "greater sense of camaraderie". However, he says: "I've seen an increase in a trend for scripts and edits to be constantly tested. It slows the process and blunts the blade somewhat. If the money put into testing was put into production, we'd all be in a better place."
Another strain on the commercials industry is the impact of digital. As well as TV ads now needing to be part of a seamless, integrated mix, some clients are spending less money on TV to accommodate digital activity. W&K's Chris Groom, one of the creatives behind the Cravendale work that won a bronze Film Lion this year, says less TV work is being made: "There isn't as much money. There are fewer projects, fewer briefs and, therefore, fewer TV gems."
Groom believes integrated campaigns, such as W&K Portland's Old Spice work, are "everything" now. He also feels that because clients tend to know less about digital than TV, they are less likely to criticise the digital work creatives come up with: "Because interactive is such a fast-moving landscape, clients give you more creative licence. There's still a huge role for big TV, but the tricky bit is not just creating a great telly ad but trying to find ways to get people to interact."
Kleinman, as one would expect, remains a staunch advocate of the film commercial: "I think there is a perception that the TV ad is the dinosaur, but I don't see it like that. The majority of people still like to sit and watch TV." And his parting words on the health of the UK commercials market? "We're in good shape," he muses, "but we could do with getting down to the gym and flexing our muscles more. We've been world-beating but we've slipped a bit. We're being caught up by the US, Australia, New Zealand. I'd give us eight out of ten."