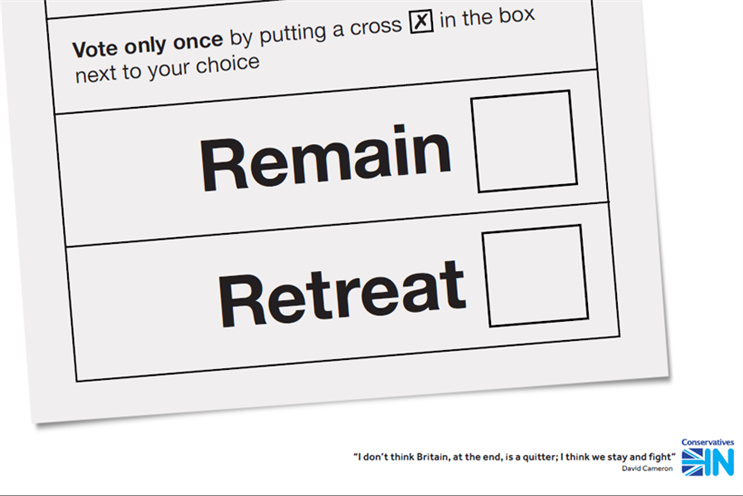 The poster, released yesterday, shows a ballot paper with two options: Remain and Retreat. The bottom of the poster quotes Prime Minister David Cameron: "I don't think Britain, at the end, is a quitter; I think we stay and fight." The poster was shared with the press and released on social platforms.
Henry Chilcott, campaign director for Conservatives In at M&C Saatchi, said: "With all the arguments and counter arguments on both sides, this poster reminds us that a vote to leave is a vote to give up. And giving up (as the prime minister reminded us on Sunday) is a distinctly un-British thing to do."
The agency's last piece of work for the official Remain campaign Britain Stronger In Europe, which shows an open door leading to darkness, can also now be seen in sites around the country.
Ink or out?
Meanwhile, Saatchi & Saatchi created a pop-up tattoo shop in Soho yesterday afternoon for We Are Europe, a campaign aimed at making sure younger voices are heard in the referendum.
The shop offered visitors satirical Brexit tattoos that cost no money, but came at the price of permanency. The designs, which included the likes of "Farage Forever", "Bye-bye Britain", and "Seas of Doubt", were available to view in a gallery, for those unwilling to take the plunge.
The pop-up hosted a visit from Eddie Izzard, who came in to speak to visitors about the referendum and encourage them to vote.