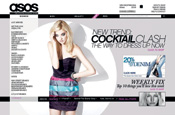 Hitwise, which monitors the online habits of more than 8m UK consumers, has found that growing numbers are using the internet to visit price-comparison sites, download discount vouchers and keep up to date with financial news.
Robin Goad, Hitwise's UK research director, said: 'This is the first real economic downturn to have occurred during the internet age. As you would expect, people are using the internet to find cheaper goods and services, but also to find information on everything from the reasons behind the credit crunch to money-saving DIY tips.
Source of information
As the economy lurches from one crisis to the next, people are relying on the web for instant news and information. Yahoo! Finance UK, for example, has experienced a 48% increase in site visitors.
In addition, Hitwise's list of fast-moving internet search terms has been dominated by finance-related words in recent months, with 'Iceland' topping the list last week.
Other beneficiaries include Robert Peston, the BBC's business editor, who has become the unofficial 'face of the credit crunch', thanks to his financial news coverage and widely-read blog.
Peston became a household name in September last year when he was the first to reveal that Northern Rock had asked for emergency funding from the Bank of England.
His habit of breaking big stories on the web led the Financial Times to blame him for damaging confidence, while the Daily Mail described him as a 'market menace'. UK internet searches for the words 'Robert Peston' have increased by 37%, while his blog receives hundreds of comments
Price sensitivity
Elsewhere, following a two-year decline, retail price-comparison sites are growing in popularity. They recorded a 20% rise in traffic this summer year on year, while searches for summer sales trebled.
Goad said: 'People are shopping around more and looking for bargains. It used to be older, slightly less affluent people, mainly women, using these sites, but this is no longer the case as the credit crunch hits.'
The fastest-growing site of this type is Martin Lewis' MoneySavingExpert.com. It offers financial-services advice, vouchers and money-saving tips, such as where to find the cheapest flights. Its forum area, where consumers can share information, has become the biggest part of the site. Goad believes this is because there are too many deals out there for experts to cover, so consumers have built up their own self-regulating panel.
Voucher websites are the fastest-growing area of internet retail. The sites, which offer discounts at popular stores, were introduced to the UK in September 2007 and the sector has experienced a 130% increase in traffic in the past year.
'Consumers now expect discounts and will look for vouchers before they even start shopping. Vouchercodes.co.uk and quidco.com are doing particularly well,' added Goad
Retailers' rise
Online retailers have so far proved fairly resilient to the ailing economy. Nearly 11m people are shopping online at least twice a week in the UK. Clothes, books, CDs and DVDs are the most popular purchases
Internet fashion sites have returned particularly strong growth. High-street brands have boosted their online presence, and this year one in 10 people visited an online fashion retailer. Improved technology and broadband has been pivotal for fashion brands, which require high-quality images that download quickly to display their products.
Asos.com, the UK's second-biggest fashion website, posted growth of 104% in the past six months. Marks & Spencer's online sales grew 34% in the 13 weeks to 27 September, despite its overall sales falling by 1.6%.
'People are used to buying everyday products online so clothes shopping was the next step. Many of the online high street stores offer free returns and it helps that consumers are already familiar with the brands offline,' said Goad.
In the food market, sales at Tesco, the leading online supermarket, have barely risen in the past year, despite heavy promotion of its discount lines.
By contrast the budget supermarkets have been expanding rapidly on the web. Lidl has grown by 236% since 2005, Morrisons by 115% and Aldi by 236%, making it the third-biggest online food seller.
A poll by Shopzilla, the price-comparison website, discovered that two-thirds of British people plan to save money by doing at least half their Christmas shopping online. However, it also found that there was a limit to what consumers would buy over the internet. More than half of those surveyed said they would not consider making bigger purchases, such as a car, in this way
Ethical considerations
As consumers feel the financial squeeze, there has been a shift in their attitude to ethical purchases. People are now less inclined to buy organic or fairtrade goods, as they perceive them to be more expensive. However, as fuel prices rise and shoppers tighten their belts, there has been a 20% increase in traffic to energy-efficiency websites. Searches for electrical companies and terms such as 'loft insulation' and 'underfloor heating' have doubled as people try to cut their energy bills
Home-improvement sites
The drop in the housing market has also had an impact on consumer search patterns. The property category once accounted for 0.85% of all UK internet visits, this has now fallen to 0.55%. Between August 2007 and August 2008 UK web searches for 'houses for sale' decreased by more than 50%.
Instead, people are looking to enhance their homes on a budget. DIY sites, such as B&Q and Homebase, and home and garden retailers, such as IKEA and Laura Ashley, have experienced increased traffic over the period.
Internet searches for the top 10 DIY related 'how to' queries have also risen, by 25% over the past 12 months.
Goad said: 'People are making fewer visits to property websites and more to house and garden retailers so they can do up their houses. They are choosing to cocoon themselves in their existing houses rather than move.'