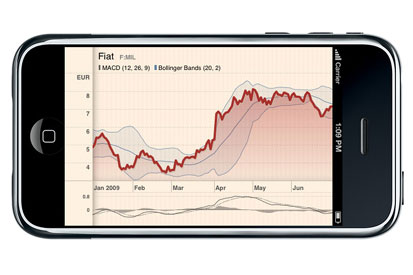 The app will provide access to news and analysts, with niche market data and a currency converter. It also has the ability to switch between portrait and landscape modes, while using the location awareness technology built into the device.
By rotating the iPhone, users gain access to a global map with indicators highlighting changing stock figures around the world.
Articles are also automatically cached in the device's memory so that users can continue reading content when they are offline.
Although the access is free, there are some restrictions. First-time users receive three free articles per month, as well as unrestricted access to the markets data sections and currency converter.
Registered users can view 10 free articles per month, have access to their FT.com portfolio and have unrestricted access to markets data and the currency converter.
Standard and premium subscribers have unlimited access to news, access to their FT.com portfolio and full access to the markets data and currency converter sections.
Premium subscribers have the additional bonus of access to Lex content.
An agreement has been signed for Siemens to be the commercial UK launch partner and sole advertiser on the application for one month.
A Financial Times spokeswoman said, interactive advertising will be blended into the app interface so advertisers can deliver tailored content to individuals with ads that can be geo-tagged by country.
Stephen Pinches, FT.com lead product manager, added: "We've listened to our users who asked for access to their portfolio, easy to use markets data with interactive charts, and quick access to FT articles.
"Combining the FT.com access model with a great platform for our premium advertisers means we will instantly see a financial return on the investment."