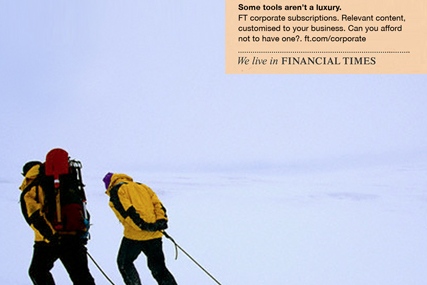 The campaign, created by DDB London, will run across selected titles from today, including Management Today, Legal Week, Accountancy Age and Time.
It features three ads showing an unarmed police squad, a paratrooper in freefall and arctic explorers without any tools, to convey the message that an FT subscription is an invaluable addition any business.
The ads, which introduce the strapline, "Some tools aren't a luxury", are part of the Pearson-owned business newspaper's wider 'We live in Financial Times' campaign, which was created by DDB in 2007.
Caroline Halliwell, FT director of brand and business to business marketing said: "The question we want our audience to ask isn't 'can we afford to have a subscription' but, instead, 'can we afford not to have one?'"
The FT erected its first paywall in 2002 but relaunched with a frequency based model in October 2007.
Last month, the FT Group reported 7% growth in underlying revenue to £192m, with adjusted operating profits more than doubling from £14m to £30m in the first six months of 2010.
Currently, a standard weekly subscription to the site costs £3.79, while a premium subscription, which includes extra content, costs £5.49.
Digital readership for the FT Group was up 27% year on year for the same period, to 149,000, and registered users of FT.com grew 77% to 2.5 million. The company also reported almost 250,000 downloads of its iPad application.
Following The Financial Times' decision to withhold its monthly ABCe figures, it recently introduced a new circulation measure to calculate the total number of people who access paid-for FT content each day through global print and digital channels.
According to its latest figures, FT.com now has 2.6 million users and 149,047 online subscribers.