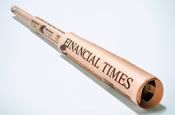 The ad, promoting the Financial Times' new series entitled 'The Future of Capitalism', features the newspaper rolled up to form the shape of a telescope.
The text reads: "'Where are we headed?' in a bid to position the publication as a source insight and analysis on the credit crisis.

The campaign will run across press and on 48 sheet and 96 sheet poster sites across London.